What's The Best Albert Pujols Rookie Card? Top 5 Ranked
There are many Albert Pujols rookie cards out there, and it can be tough to figure out which one Albert Pujols rookie card is the best for you.
This blog post will discuss each card's different features and values.
We'll also talk about the year they were made and how to find the best deals.
So whether you're a collector or just looking for a great investment, read on for all the information you need!
Albert Pujols Rookie Card Table Of Contents
What Year Was Albert Pujols Rookie Card Released?
Even though there are a few minor league sports cards floating around, the 2001 Albert Pujols baseball cards are considered his MLB rookie cards.
As an eBay affiliate, I might make a commission on purchases made via links on this page.
Which Albert Pujols Rookie Card Is The Best Rookie Card?
Luckily, in 2001, several companies released Albert Pujols rookie cards. Here we are going to rank our favorites.
Our Pick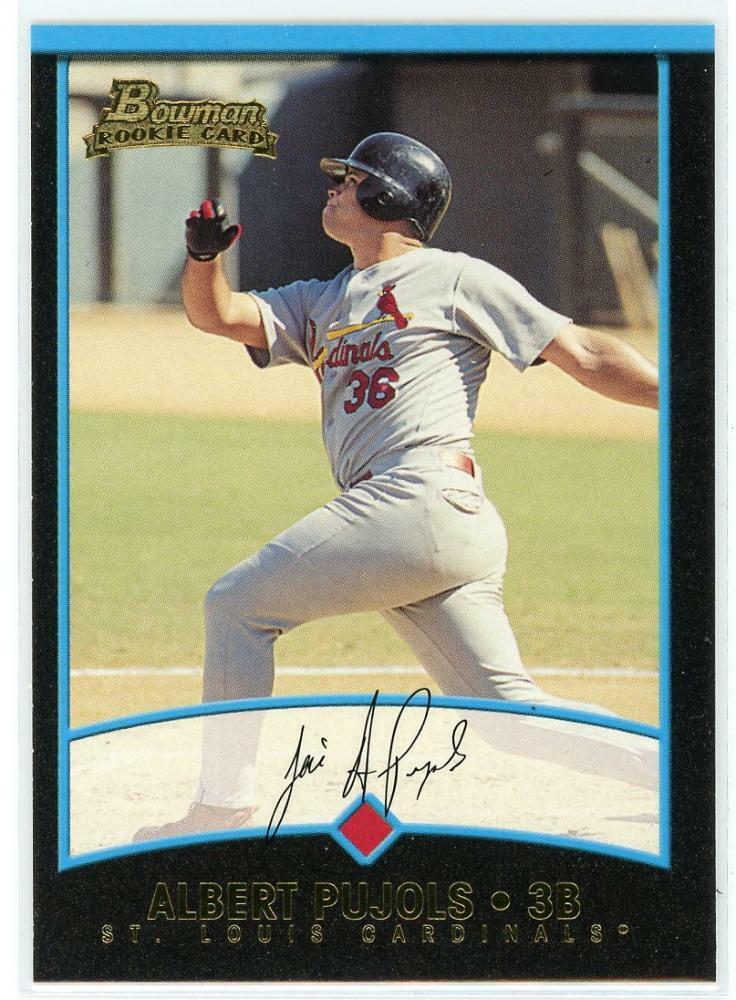 This Bowman Albert Pujols rookie card is widely considered the "real" Albert Pujols rookie card, which is why it gets our top spot for the best Albert Pujols rookie card.
We also love this Albert Pujols baseball card because of the photo. Several Albert Pujols rookie cards have him swinging mid-way, but this is one of the only baseball cards that shows him at the end of his swing, which is beautiful.
We also love the blue and black of the Bowman border against the red and gray of the St Louis Cardinals uniform of Albert Pujols.
While this card isn't an auto, there was an insert of autos in the 2001 Bowman set, which included an Albert Pujols auto rookie (click here to see it on eBay).
However, that Albert Pujols rookie card value is high priced and hard to find.
This base rookie is much more accessible and a beautiful card.
We have always loved the Donruss Studio line, even though it wasn't around for long.
In 2001, most cards labeled as "Rookie" were also included in a short print run up to 700.
The Donruss Studio SP Rookie is the prize of that series and one of our favorite Albert Pujols cards ever.
This Albert Pujols RC is his only baseball rookie card with a background with the St Louis Cardinals logo. The player and uniform against the red and white background of the Cardinals logo are awesome.
The Donruss Studio are really sharp-looking cards, and this Pujols rookie card makes it a must-have on our list.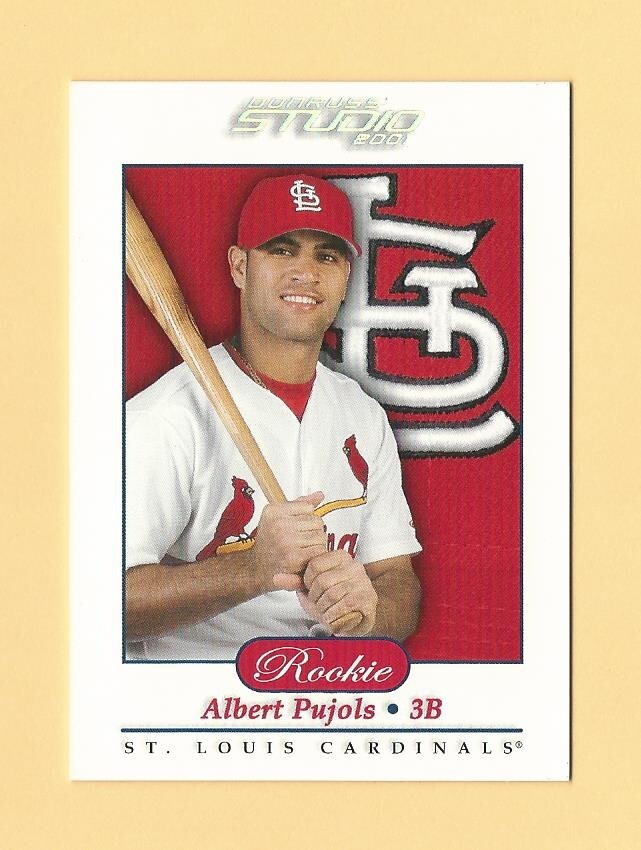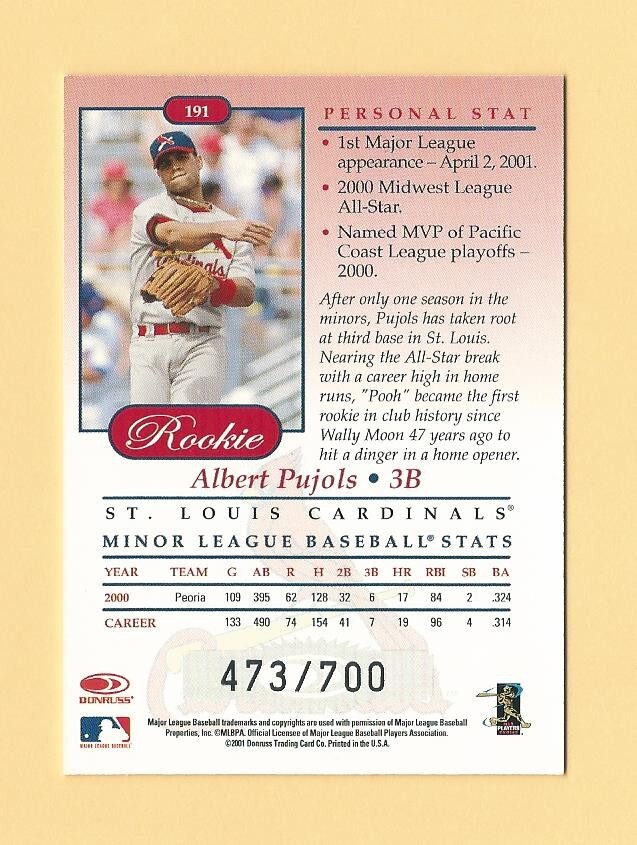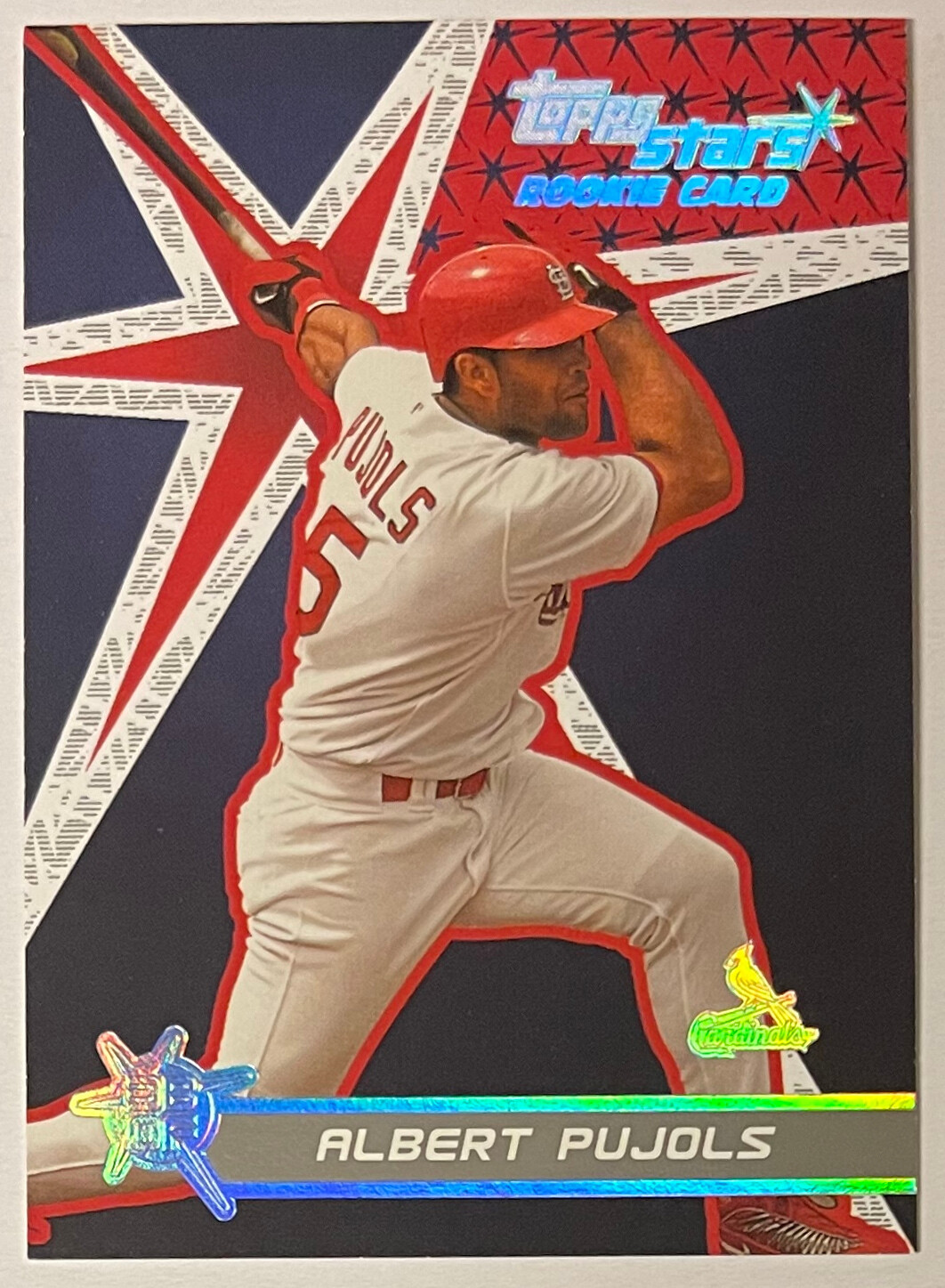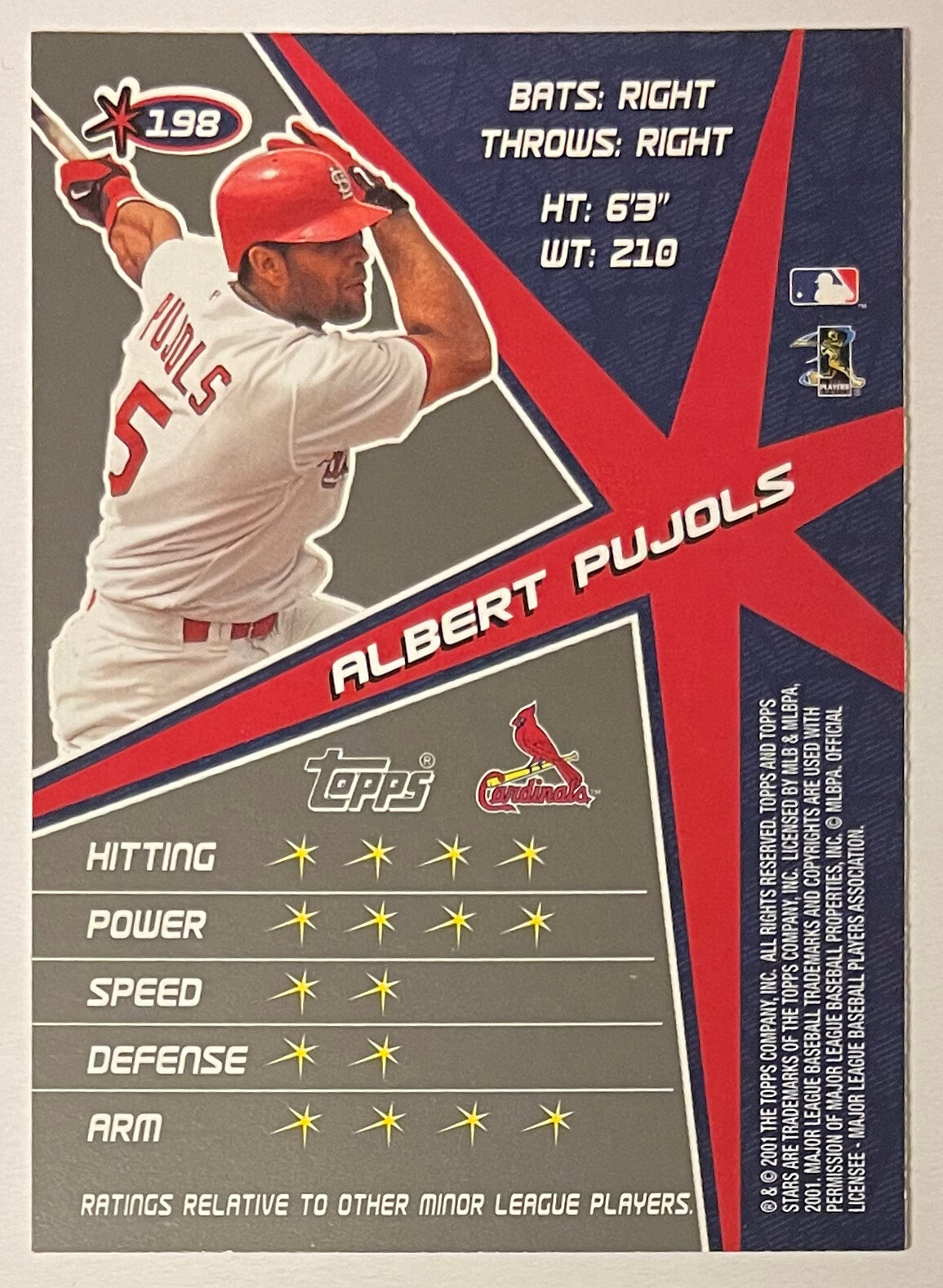 Every part of the 2001 Topps Stars Albert Pujols baseball card is perfect.
Several cards in 2001 used foil to make their cards pop, but few made it work as well as the Topps Stars.
Topps even made the Cardinals logo with foil, which is not seen in other sets.
This card took a different approach with the back of the card, taking the same Albert Pujols picture and background and using a variation of the same picture.
Where other sets usually have a series of stats on the back, the Topps Stars had a ranking setup, which ranked each player's skills in various categories.
So yeah, this Albert Pujols RC is a classic.
Topps was a little late in the game in 2001 and ended up including Albert Pujols in the base Topps traded set for that year.
Similarly, Topps Chrome came out with the chromium parallel of the base Topps set, and the Albert Pujols RC is one of the main values from that set.
It takes the same design from the Topps Traded and overlays their chrome look over it, adding more depth and shine to the Pujols rookie card.
These cards were not as available as the base set, so Topps Chrome commanded a bit more money than base sets, making this Albert Pujols RC a high demand card.
But even at a higher price, the patented Albert Pujols batting stance on the front, and his smile on the back, make this Albert Pujols RC a card all fans should own.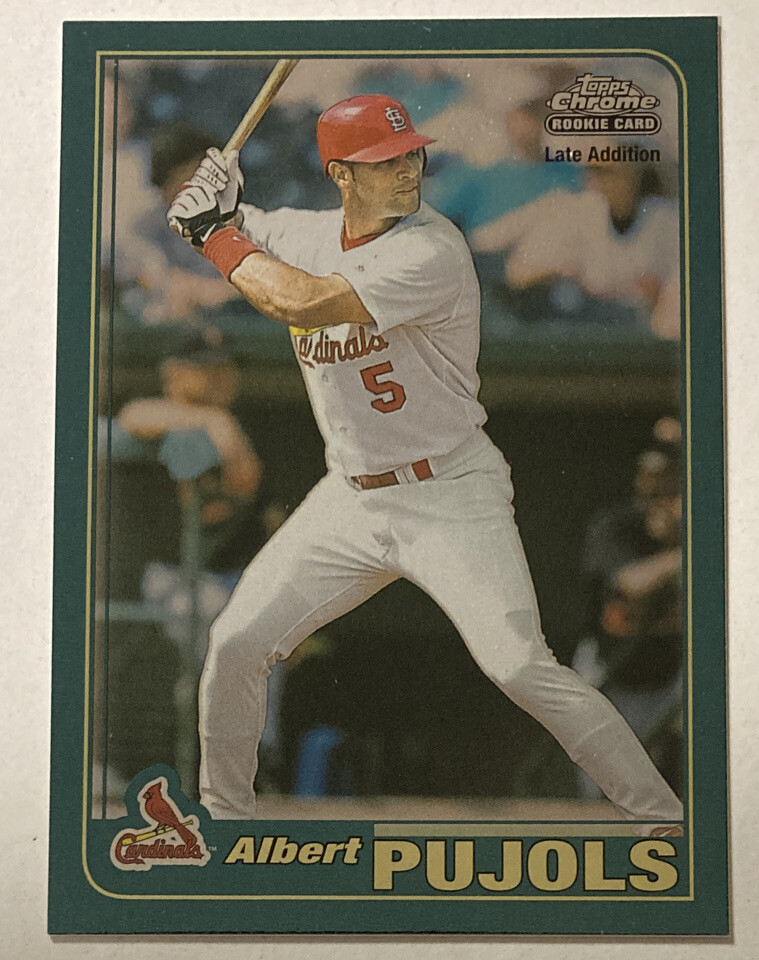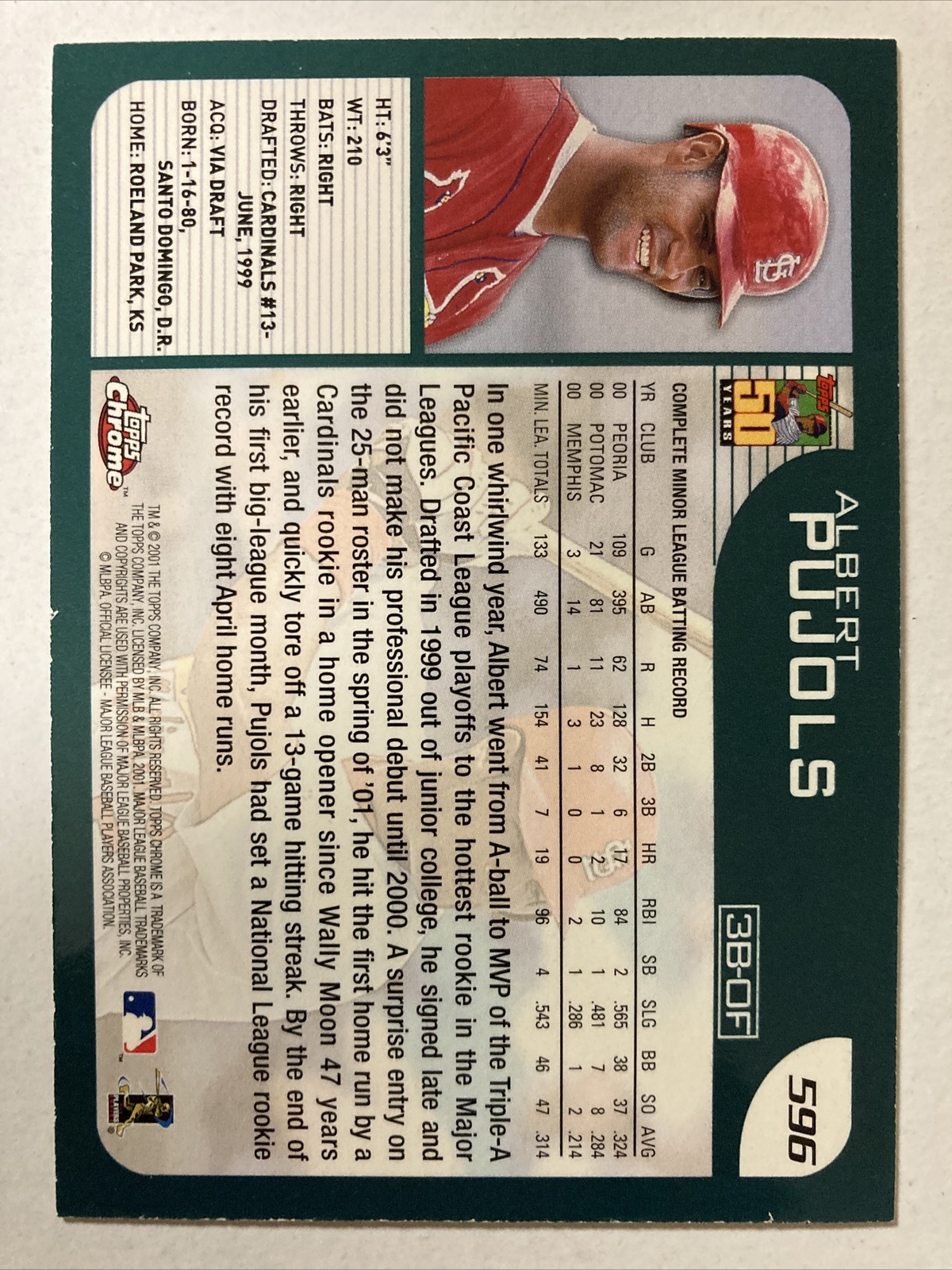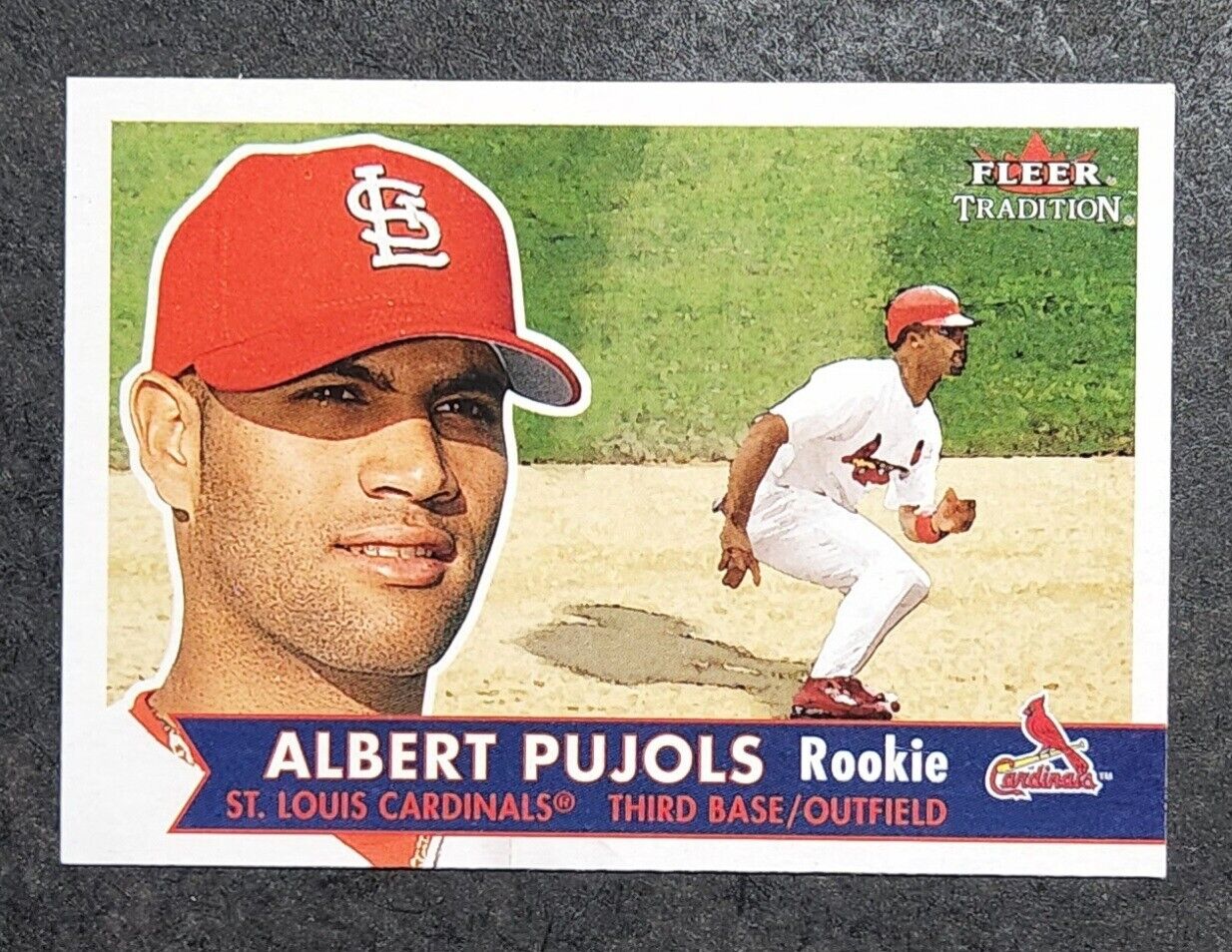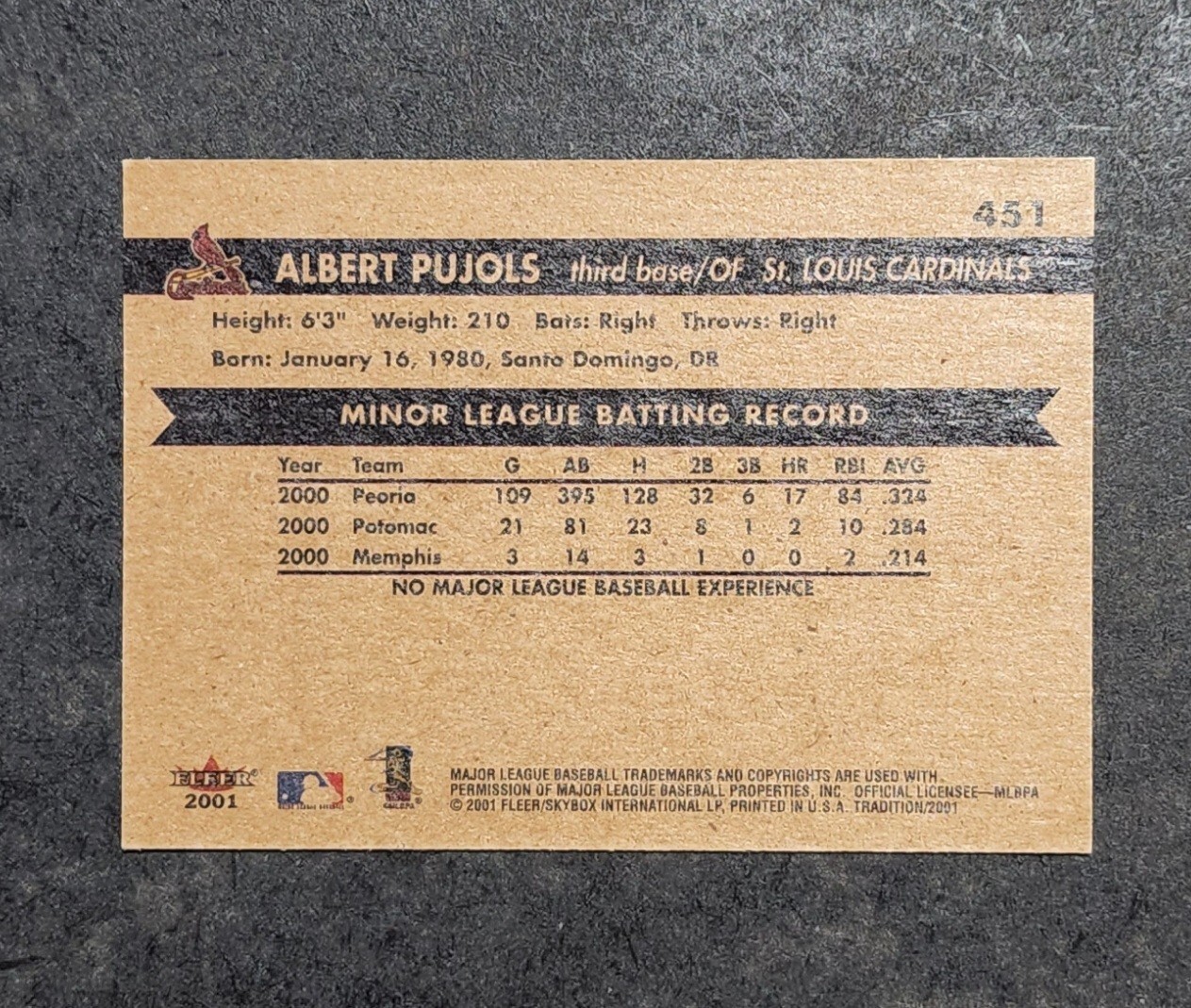 Albert Pujols has never been known for base running, but not everyone knew that back in 2001.
The Fleer Tradition Albert Pujols RC is one of the only cards ever made with him on the basepaths, making it a unique rookie card to own.
But my favorite part about this Albert Pujols rookie card is the up close of the face, showing just how young he was during Albert Pujols rookie year.
Who Is Albert Pujols, Major League Baseball Superstar?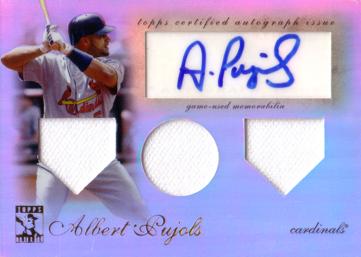 Albert Pujols is a Dominican-American professional baseball first baseman for the Los Angeles Angels of Major League Baseball (MLB).
Albert Pujols is a three-time National League (NL) Most Valuable Player (MVP) and a ten-time Silver Slugger. He played his first eleven seasons in St. Louis, where he helped the Cardinals win two World Series titles.
Afterward, Albert Pujols spent one season with the Anaheim Angels before signing with the Los Angeles Angels before the 2012 season.
A right-handed batter and thrower, Albert Pujols stands 6 feet 3 inches (1.91 m) tall and weighs 240 pounds (110 kg).
Pujols was born on January 16, 1980, in Santo Domingo, Dominican Republic, the second of four children of Bienvenido Pujols and Marcelina Sánchez. Pujols' father was a softball pitcher in the Dominican Republic who also played baseball; his mother was a softball player who dabbled in volleyball. Albert often participated in both sports. Pujols dreamed of becoming a professional baseball player like his idol, Roberto Clemente.
However, most Major League scouts believed that Pujols was too skinny at age 16 to have much of a future in baseball.
Albert's Baseball Background And Where He Comes From
Albert Pujols hit .329 in his final high school season, but he was not selected by the Cardinals until the 13th round of the 1999 Major League Baseball draft.
When Albert Pujols was drafted, he was convinced that it would be only a matter of time before he was in the majors. He was assigned to the Cardinals' rookie league team in the Gulf Coast League, where he played shortstop and third base.
In his first professional season, Albert Pujols batted .250 with four home runs and 17 RBIs in 40 games. The next year, Albert Pujols hit .311 with eight homers and 60 RBIs in 101 games for the Class A Peoria Chiefs of the Midwest League.
Albert Pujols Gets Promoted To Double AA
Albert Pujols was promoted to the Cardinals' Double-A affiliate, the Arkansas Travelers of the Texas League, for the 2001 season. There, he batted .324 with 31 homers and 93 RBIs in 115 games.
Albert Pujols was among the league leaders in several offensive categories by mid-season, including batting average, home runs, RBIs, and slugging percentage.
He was named the Texas League Player of the Year and a Baseball America Minor League All-Star.
Getting Called Up To The Big Leagues And His Rookie Year
Albert Pujols made his major league debut on April 26, 2001, against the Colorado Rockies. He recorded his first hit, a double off Shawn Chacon, in his second at-bat. In his first season, Pujols batted .329 with 37 home runs and 130 RBIs.
Albert Pujols was the unanimous choice for the National League (NL) Rookie of the Year Award.
Albert Pujols rookie season was great, as he became the first rookie to win the batting title and homerun crown since Fred Lynn accomplished the feat in 1975.
He also set Cardinals franchise records for most home runs by a rookie (37) and most total bases by a rookie (339).
Albert Pujols rookie year saw he was named to Baseball America's All-Rookie Team and finished third in voting for NL MVP behind Barry Bonds and Sammy Sosa.
In 2002, Albert Pujols won his first Silver Slugger Award and was again among the league leaders in several offensive categories.
He also won his first Gold Glove Award after leading all major league first basemen in fielding percentage.
Albert Pujols Becomes A Hitting Machine
Albert Pujols continued to improve in 2003, setting career highs in batting average (.359), home runs (47), RBIs (124), slugging percentage (.763), and on-base plus slugging (OPS) (a measure of a player's on-base ability and power).
He was named NL MVP for the second consecutive year, becoming only the fourth player in history to win back-to-back MVP awards.
Albert Pujols also became the first player to hit 30 or more homers in his first three seasons.
One Of The All-Time Best And Destined For The Hall Of Fame
Albert Pujols is considered one of the best baseball players of all time. He has won three NL MVP awards, two World Series championships, and nine Silver Slugger Awards. He is a ten-time All-Star and a six-time Gold Glove Award winner.
Albert Pujols ranks fourth on Major League Baseball's all-time home run list with 655, fifth on the all-time RBI list with 2214, and seventh on the all-time hits list with 3084.
Albert Pujols is the only player in MLB history to have at least 650 home runs, 2000 RBIs, and 3000 hits. Albert Pujols is also a member of the 30–30 club (300 homers and 300 stolen bases) and the 100–100 club (100 homers and 100 stolen bases).
In 2009, Pujols became the first player in major league history to hit 30 homers in his team's first 50 games of the season.
He is also the fastest player to reach 500 career home runs in his 12th season.
Albert Pujols has been described as "the perfect hitter" and "a once-in-a-generation talent." He has been compared to Babe Ruth, Hank Aaron, Willie Mays, Mickey Mantle, and Stan Musial.
Albert Pujols Career Accomplishments and Awards
Albert Pujols is one of only four active players with a . 300 batting average, 400 on-base percentage, and . 600 slugging percentage (minimum 4000 plate appearances). The other three are Miguel Cabrera, Mike Trout, and Joey Votto.
Albert Pujols is the only player in MLB history to have at least 11 seasons with a batting average of 300 or higher, 30 homers, and 100 RBIs. He has accomplished this feat a major-league record 12 times.
In 2011, Albert Pujols became the first player in MLB history to hit 30 homers in his team's first 60 games of the season. Albert Pujols is also the fastest player to reach 600 career home runs in his 13th season.
Pujols has been described as "the perfect hitter" and "a once-in-a-generation talent."
---
If you enjoyed this article, you might also like
Rob is a Certified Personal Trainer and Nutrition Coach through the National Academy of Sports Medicine. For the past 10 years, Rob has been navigating the health and fitness landscape to better himself and those around him, focusing on tools such as calorie and macro counting, intermittent fasting, and HIIT training techniques.