Which Is The Best Ja Morant Rookie Card? The Top 6 Ranked
Everyone wants a Ja Morant rookie card because there is no doubt that Ja Morant is one of the most exciting young players in the NBA today.
He has already made a name for himself, and there is no telling what he will be able to achieve in the future. This article will look at the best Ja Morant rookie cards on the market and Ja's journey from college basketball to the NBA.
We will also discuss his skills and what makes him such an exciting player to watch.
Ja Morant Rookie Card Table Of Contents
As an eBay affiliate, I might make a commission on purchases made via links on this page.
What Year Was Ja Morant Rookie Card Released?
For most card and memorabilia manufacturers, Ja Morant rookie cards first appear in the 2019-20 season sets.
---
Which Ja Morant Rookie Card Is The Best RC?
Since many card companies released a Ja Morant rookie card, there are quite a few to choose from. Especially considering all the Ja Morant rookie card parallels and autograph cards available.
Let's look at the top 6 most popular Ja Morant rookie cards.
2019-20 Panini Mosaic Ja Morant RC #219
Even though the 2019 20 panini Mosaic set isn't hard to find, the many different parallel cards make this a highly desirable one of the most popular on the market.
This card has one of the highest volumes of Ja Morant rookie card variations on this best Ja Morant basketball card list.
And while the base Morant rookie is an easy collectible due to availability, some parallels are short prints, down to as low as 1 of 1 made.
But even the easier-to-find trading cards are very collectible, as this Ja Morant card is one of the best-looking cards on the market due to its refractor look and unique design.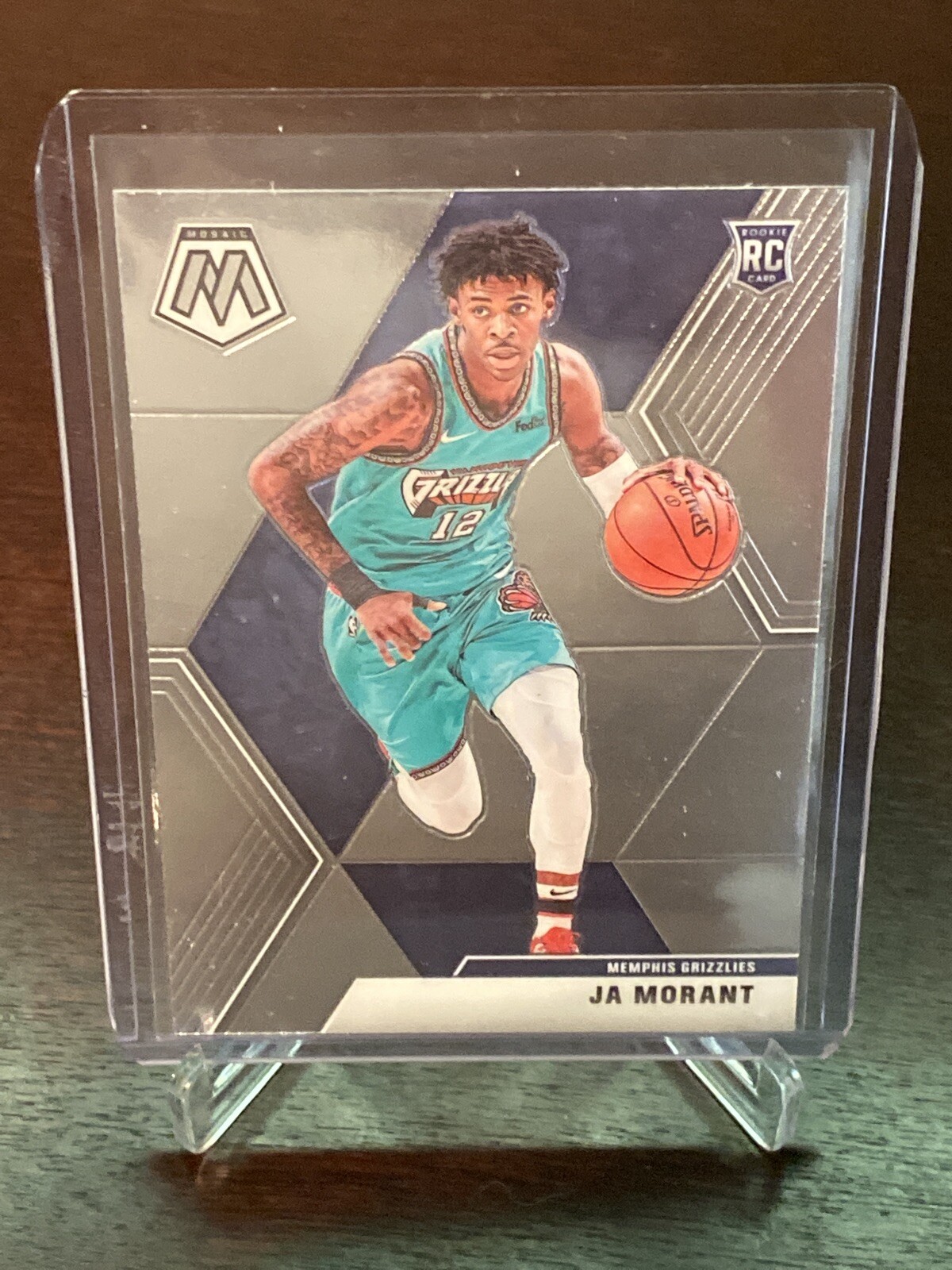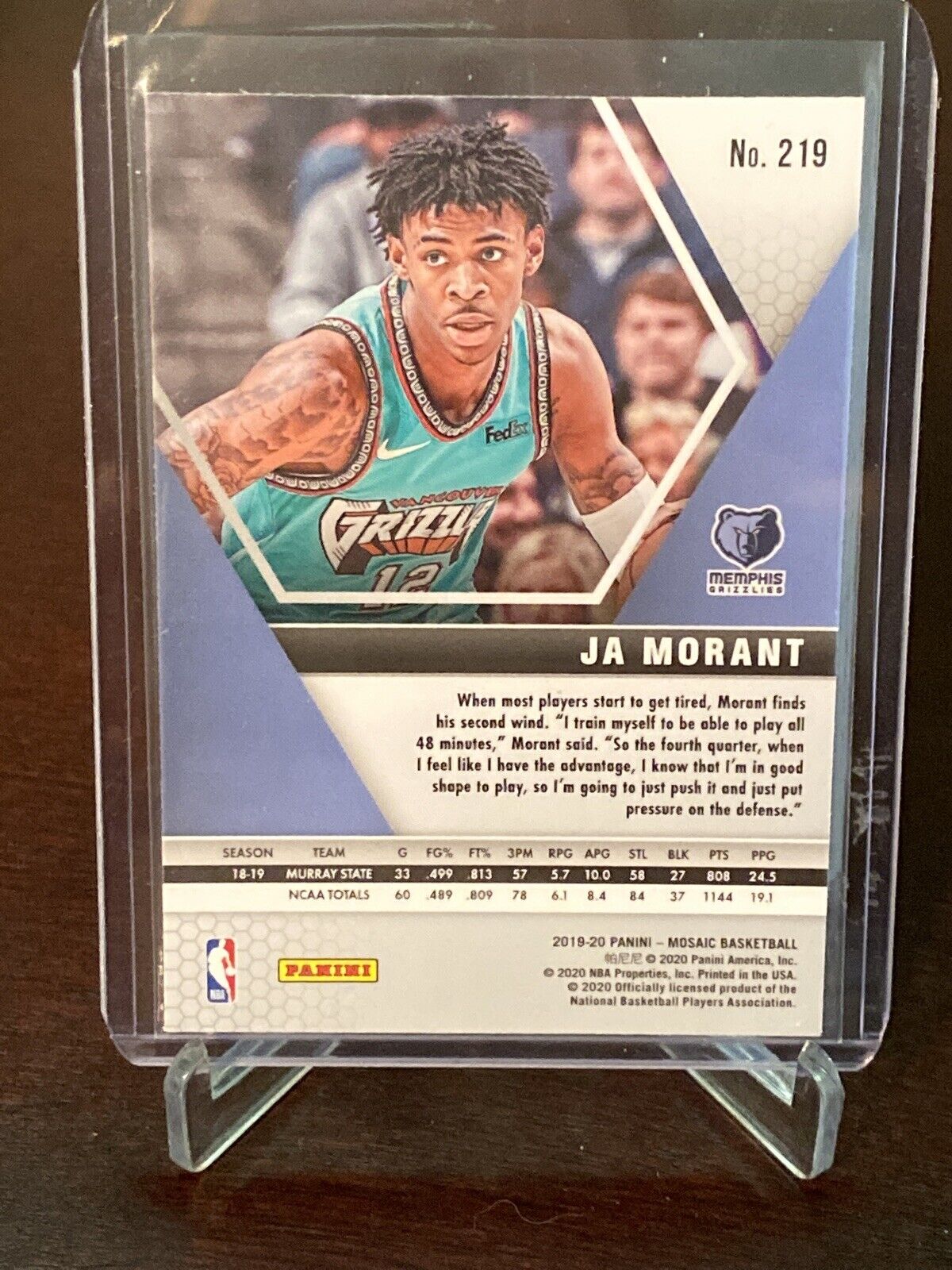 2019-20 Panini Prizm Ja Morant Rookie Card #249
It should be no surprise that the Panini Prizm Ja Morant rookie card makes our list the most popular.
Another hit from the Panini company, this Prizm Ja Morant rookie card is also not difficult to find.
Still, the sheer number of Prizm variations makes this another card many want fans to add to their collection.
This Prizm Ja Morant rookie card features short prints in many designs and colors, but the hardest to find are the ultra rare 1-of-1 card, the Black Prizm, Black Shimmer Premium Prizm, and the Nebula Choice Prizm.
Because there are so many parallel cards available, this Panini Prizm card can be bought for a very reasonable price for the higher numbers print cards, but still offers enough options with very short print to make this Prizm Ja Morant rookie card very high demand.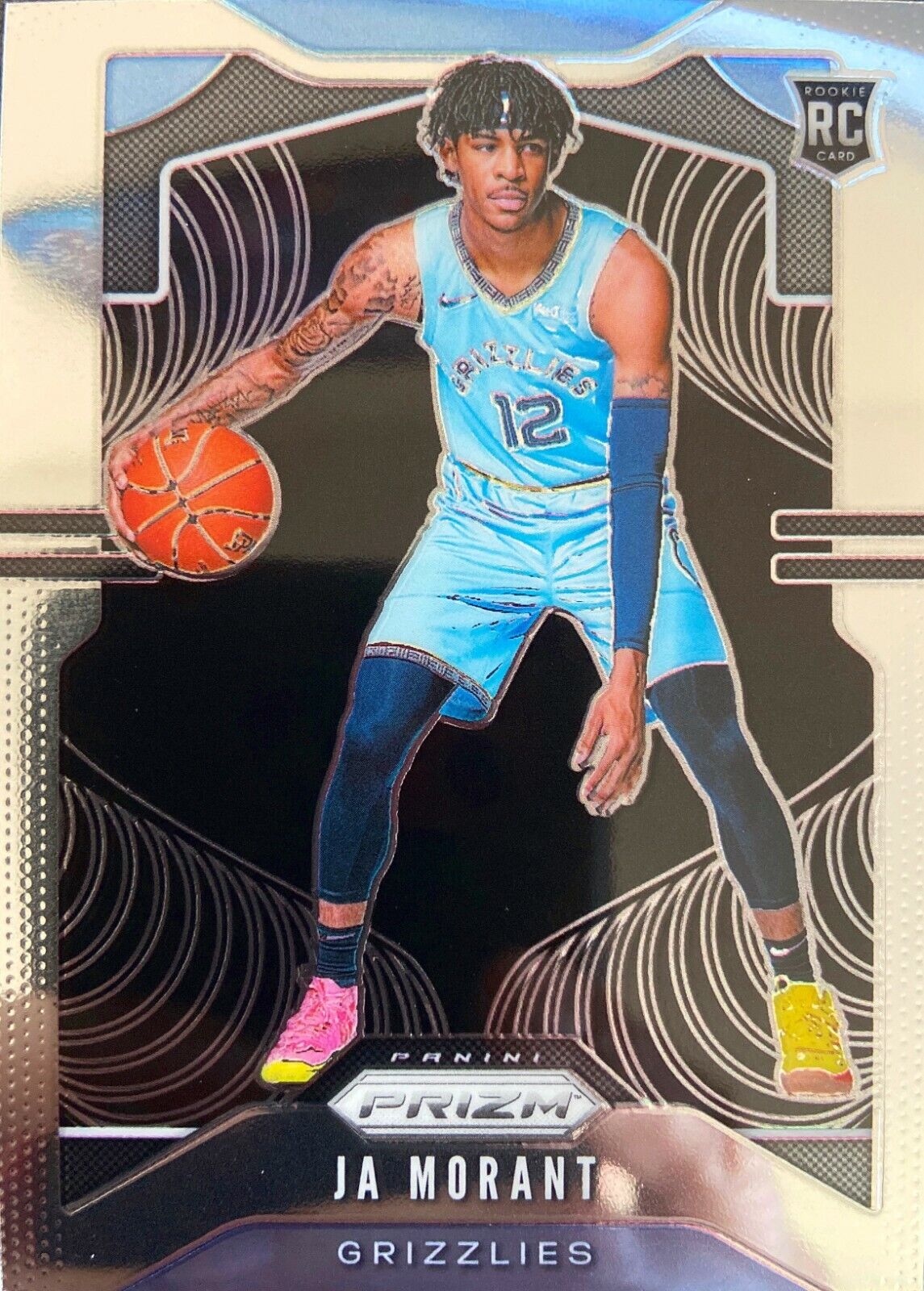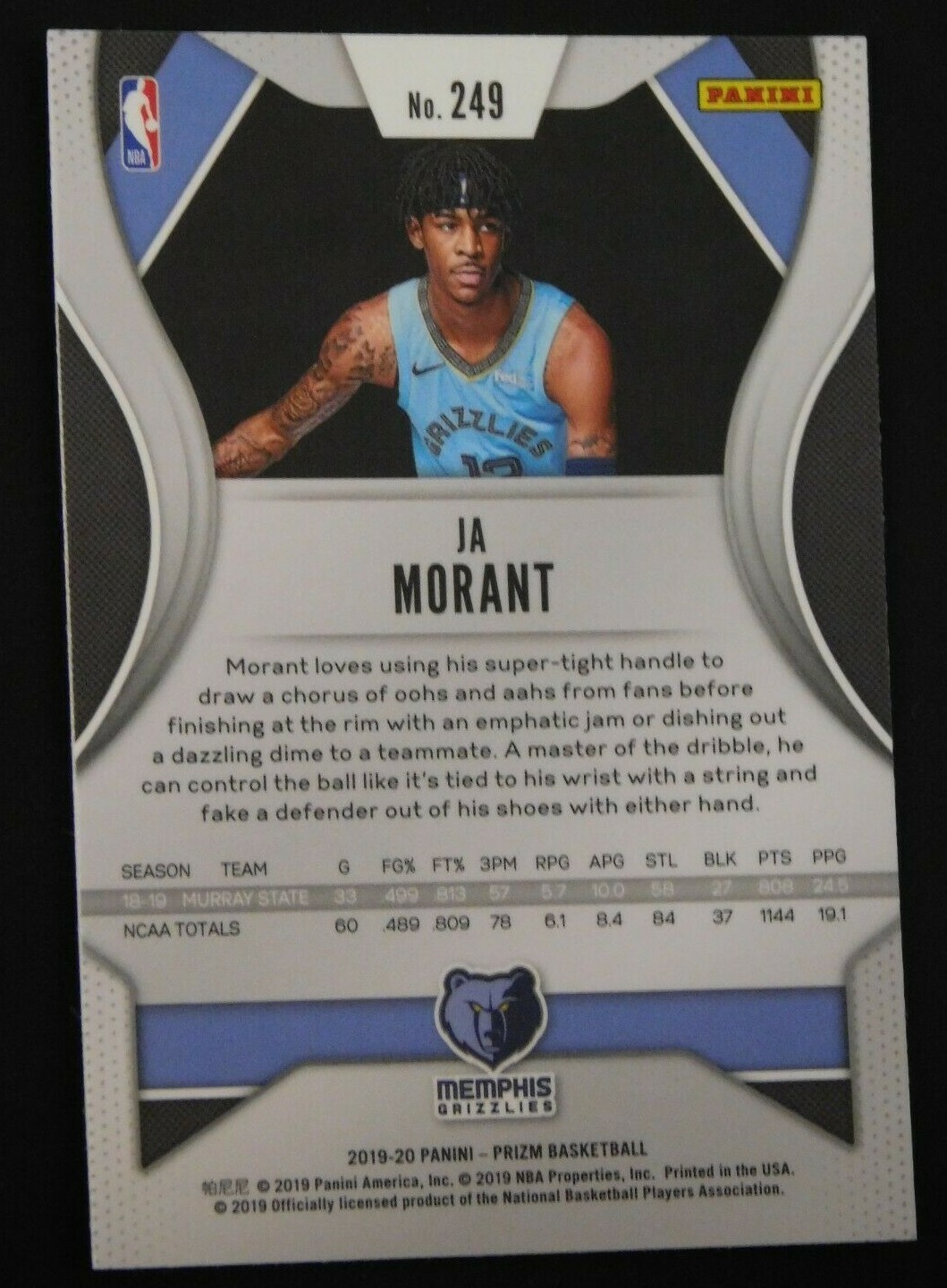 2019-20 Clearly Donruss Ja Morant Rookie Card #52
The Clearly Donruss Ja Morant rookie card of the 2019-20 season is the same as the base Donruss card, just a higher quality overall and not easy to find.
Frankly, this Donruss Ja Morant rookie card isn't very exciting, but as we have seen with other NBA rookie stars, the "Rated Rookie" series is very popular and collectible.
This is also very collectible, as we have more parallel cards to collect.
However, the Donruss parallels for this Ja Morant rookie card are much harder to find than some other series, with only 8 parallels, with prints down to 1 of 1 for the Donruss Holo Platinum.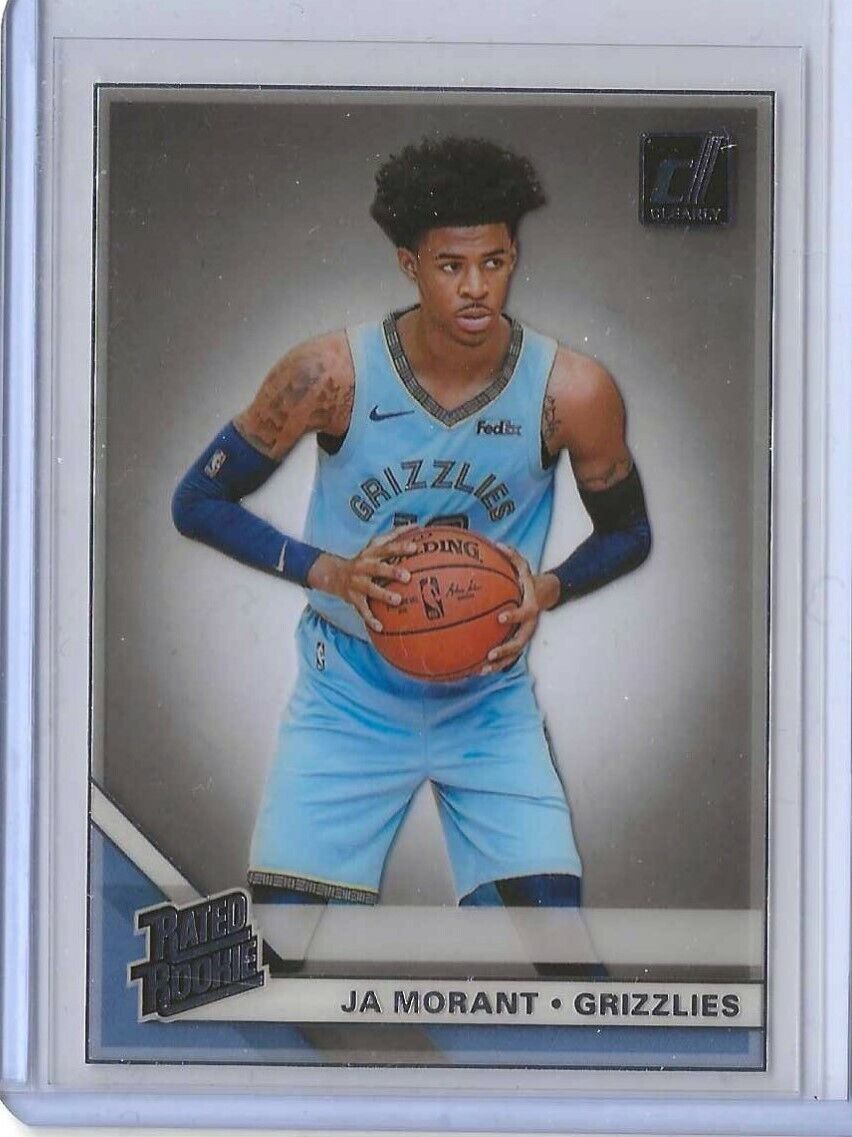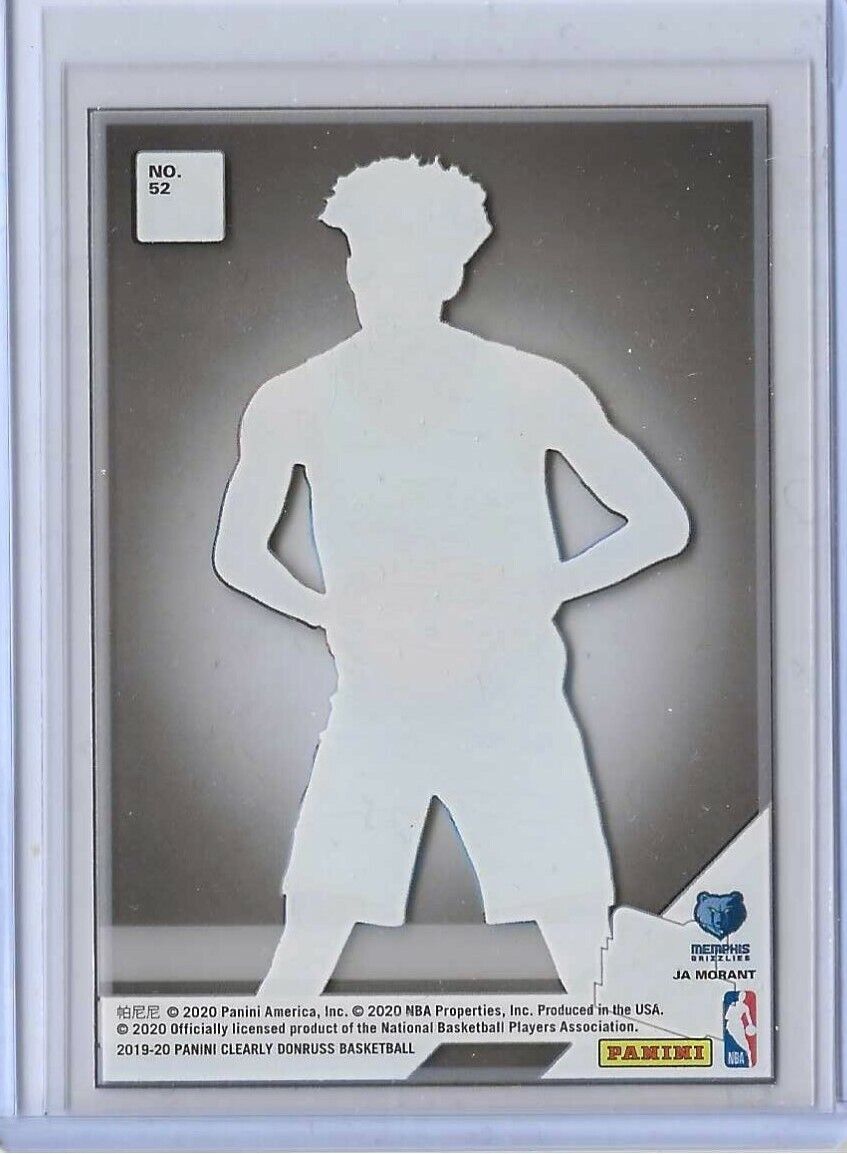 2019-20 Panini Impeccable Ja Morant Jersey Number Auto /12 RC
So, this card made the list of rookie cards for several reasons.
First, it's a beautiful autograph card. The jersey color mosaic with the background is phenomenal.
Second, this specific Ja Morant rookie card was a short print of only 12, making it very collectible.
Several Ja Morant rookie card autograph short prints were made for the 2019-20 seasons, but few combined being as unique and rare as this card.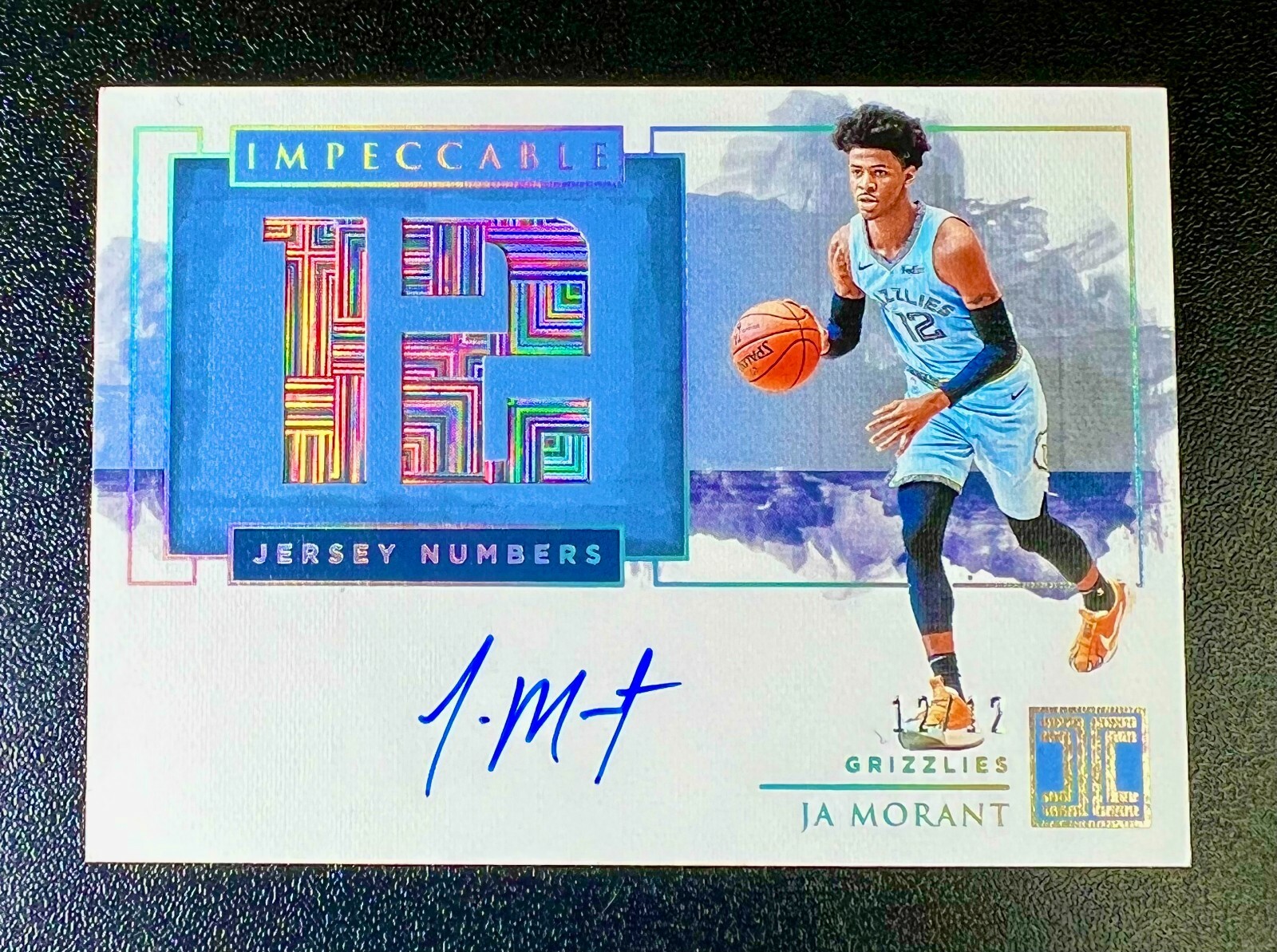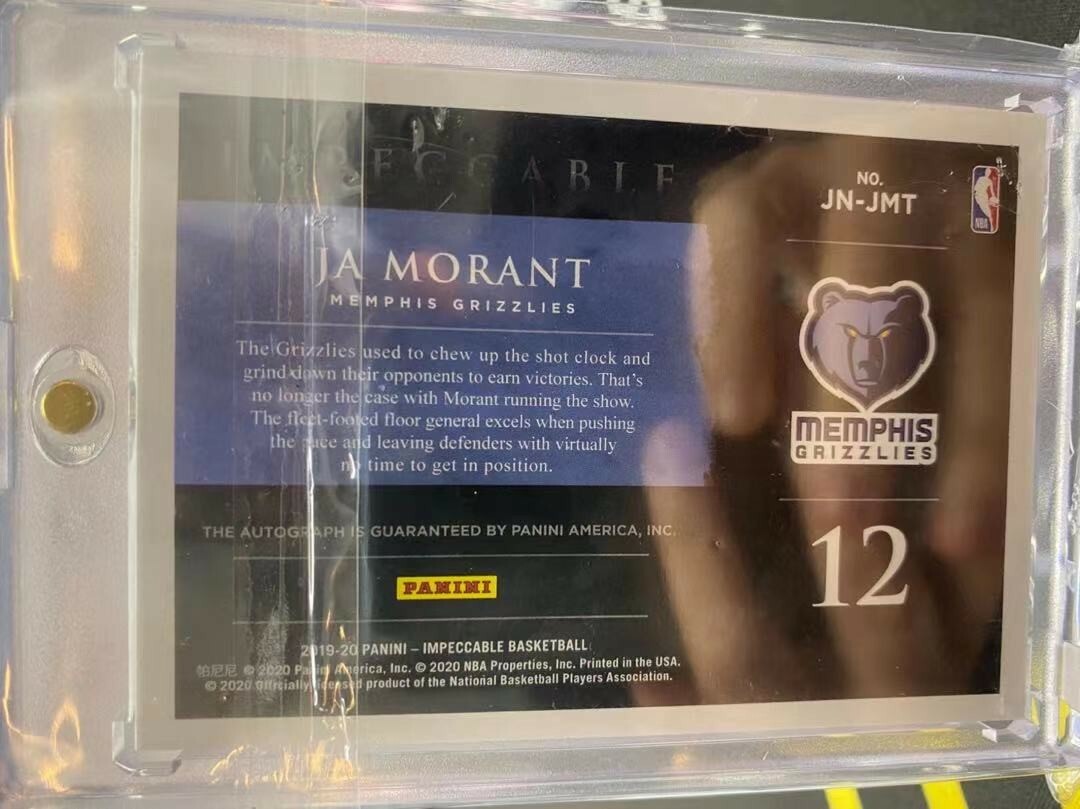 2019-20 Hoops Premium Stock Ja Morant Rookie Card #259

While the base NBA Hoops Ja Morant rookie card is a collectible, the Hoops Premium Stock card gets more attention and, in turn, a higher price tag.
The Hoops Premium Stock cards are a beautiful upgrade from the stock version, which makes these cards more collectible and with higher demand than the base set.
It also has a better-looking photo than the base set, with a photo of Morant dribbling a basketball.
The Premium Stock Ja Morant card also has a lot more variations and parallels than the base set, with hard-to-find short prints like the Black Cracked Ice (1/1), Black Flash (1/1), Black Laser (1/1), Black Mojo (1/1), Black Shimmer (1/1), Premium Set Gold Vinyl (1/1).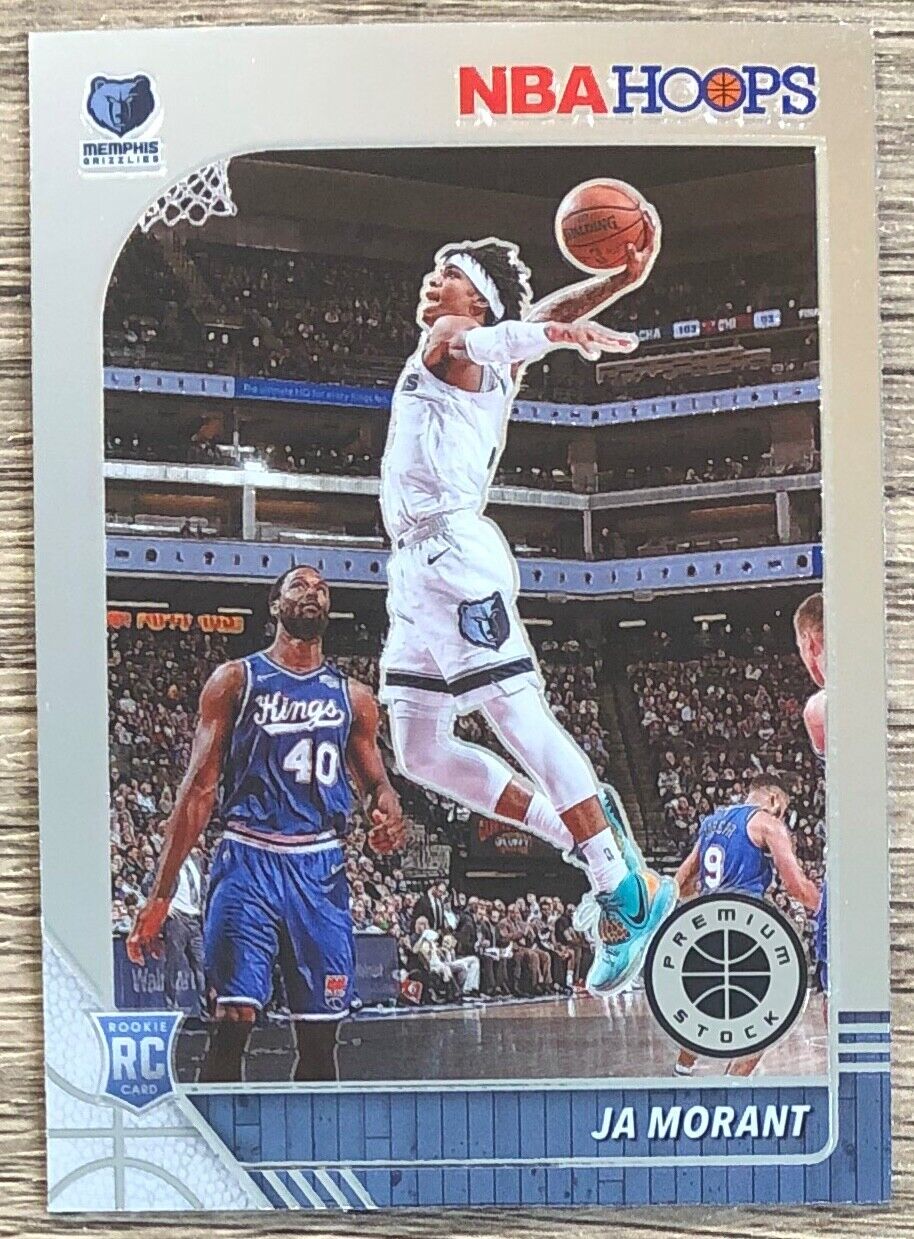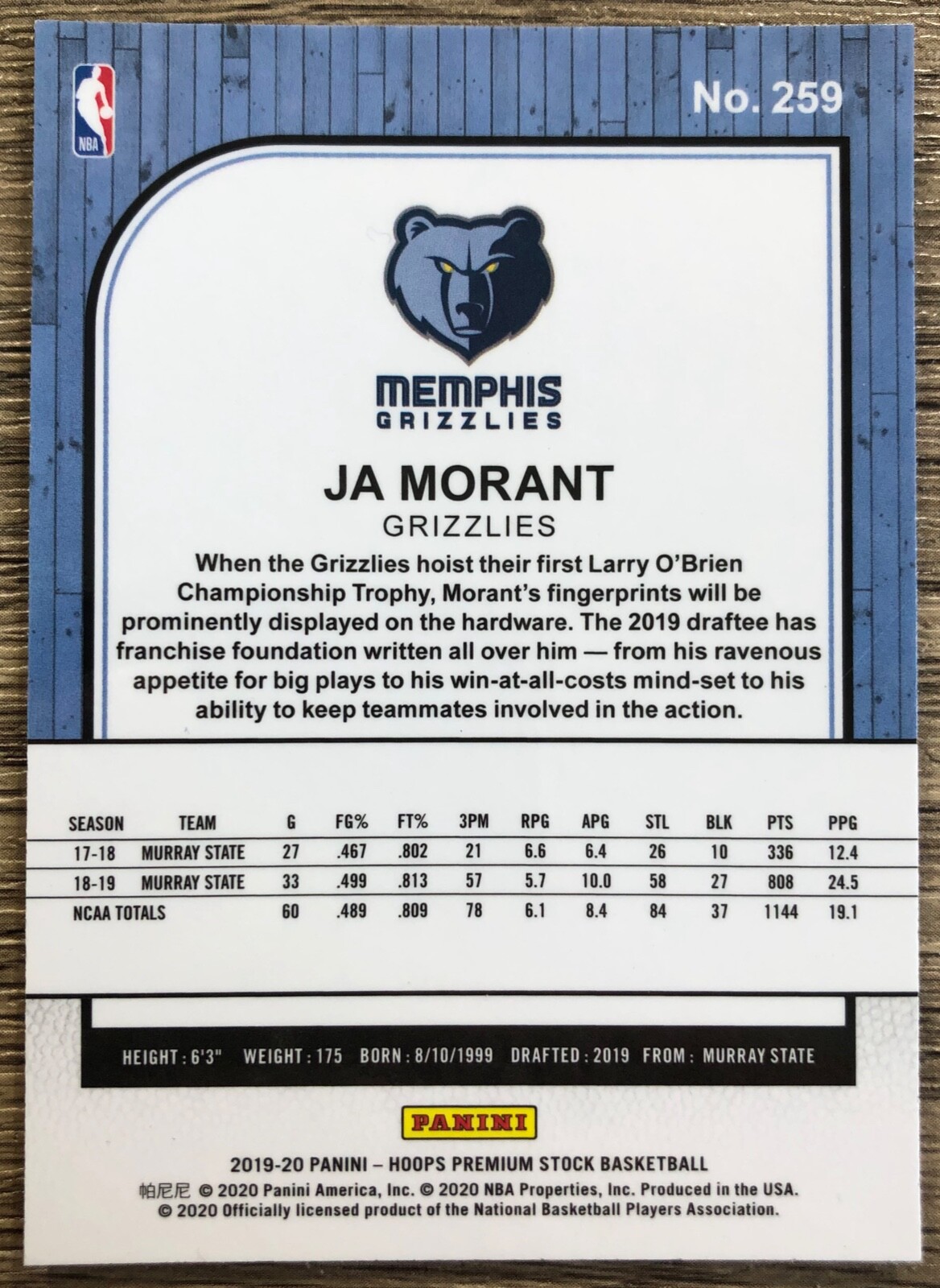 2019-20 Panini Chronicles Ja Morant #116 RC Rookie Card w/ Young Dolph

Perhaps one of the most unusual and unique Ja Morant rookie cards on the list is the unassuming 2019 Panini Chronicles card #116 RC.
What makes this card so special? Oddly, it's Morant. It's who is behind Morant.
Captured in the background of this card is rapper Young Dolph, who was later killed in 2021 in Memphis.
Next to Young Dolph stands Key Glock, another rapper, and cousin to Dolph.
When this cameo was discovered, prices soared for the base card, crossing $70 at one point.
Since then, prices have come down, but these are still high-demand Ja Morant rookie cards.
---
Who Is Ja Morant, NBA Superstar?
Ja Morant is a professional basketball player who plays for the Memphis Grizzlies in the NBA. He was born on August 16, 1999, in Dalzell, South Carolina.
Ja Morant's Background And Where He Comes From
Ja Morant's parents are Tee and Jamie Morant.
His father was a semi-professional sports player, and his mother played college basketball.
Growing up, Ja Morant always had a passion for sports and hoops. He would often go to his father's games and watch him play. This is where he developed his love for the sport.
When he was just eight years old, Ja Morant's parents moved to South Carolina so his father could pursue a career in coaching. It was here that Ja began to play organized basketball.
Ja Morant And College Basketball At Murray State
Ja Morant played two seasons of college basketball at Murray State University.
In his freshman season, he averaged 11.0 points per game and was named to the Ohio Valley Conference All-Freshman Team.
In his sophomore season, Ja exploded onto the scene and became one of the best college basketball players.
He averaged 24.0 points per game, along with an impressive stat line of 50.0% shooting from the field, 36.0% from three-point range, and 77.0% from the free throw line.
Ja was named the Ohio Valley Conference Player of the Year and led Murray State to a conference championship. He also earned First Team All-American honors.
Ja Morant Rookie Year And Getting Drafted
The Memphis Grizzlies drafted Ja Morant with the second overall pick in the 2019 NBA Draft.
He immediately impacted and was named to the NBA All-Rookie First Team.
In his rookie season, Ja Morant averaged 17.0 points per game and led the Memphis Grizzlies to the playoffs. He was named to the NBA All-Rookie First Team and quickly established himself as one of the best young players in the league.
Ja Morant Becomes A Basketball Star
Ja's sophomore season was even better than his first, as he averaged 24.0 points per game and was named an All-Star for the first time in his career.
He also helped lead the Grizzlies to the Western Conference Semifinals, where they eventually lost to the eventual NBA champion Los Angeles Lakers.
What Does The Future Hold For Ja Morant?
There are many things that make Ja Morant a special basketball player.
He has an incredible work ethic and is always looking to improve his game. Ja is also an incredible athlete with a tremendous amount of natural ability. He has the potential to be one of the best players in the NBA for many years to come.
The sky is the limit for Ja Morant.
Ja Morant Career Accomplishments and Awards
Some of Ja Morant's career highlights include being drafted with the second overall pick in the 2019 NBA Draft, being named to the NBA All-Rookie First Team, and being named an All-Star in his sophomore season.
He has also helped lead the Memphis Grizzlies to the playoffs in his first two seasons in the league. Ja Morant is a very accomplished young player with a bright future ahead of him.
---
If you enjoyed this article, you might also enjoy:
Rob is a Certified Personal Trainer and Certified Nutrition Coach through the National Academy of Sports Medicine. For the past 10 years, Rob has been navigating the health and fitness landscape in a quest to better himself and those around him focusing on tools such as calorie and macro counting, intermittent fasting, and HIIT training techniques.