The Best Bo Jackson Rookie Card? 5 Ranked And Reviewed
There are many Bo Jackson rookie cards out there, and it can be tough to figure out which one Bo Jackson rookie card is the best for you.
This blog post will discuss each card's different features and values.
We'll also talk about the year they were made and how to find the best deals.
So whether you're a collector or just looking for an excellent investment, read on for all the information you need!
Bo Jackson Rookie Card Table Of Contents
As an eBay affiliate, I might make a commission on purchases made via links on this page.
What Year Was Bo Jackson's Rookie Card Released?
Even though a few minor league cards are floating around, the 1986 and 1987 Bo Jackson baseball cards are considered his MLB rookie cards.
Which Bo Jackson Rookie Card Is The Best?
Several companies released Bo Jackson rookie cards in the late 80's. Because of that, the Bo Jackson rookie card value is still quite modest and affordable. Here we are going to rank our favorites.
Our Pick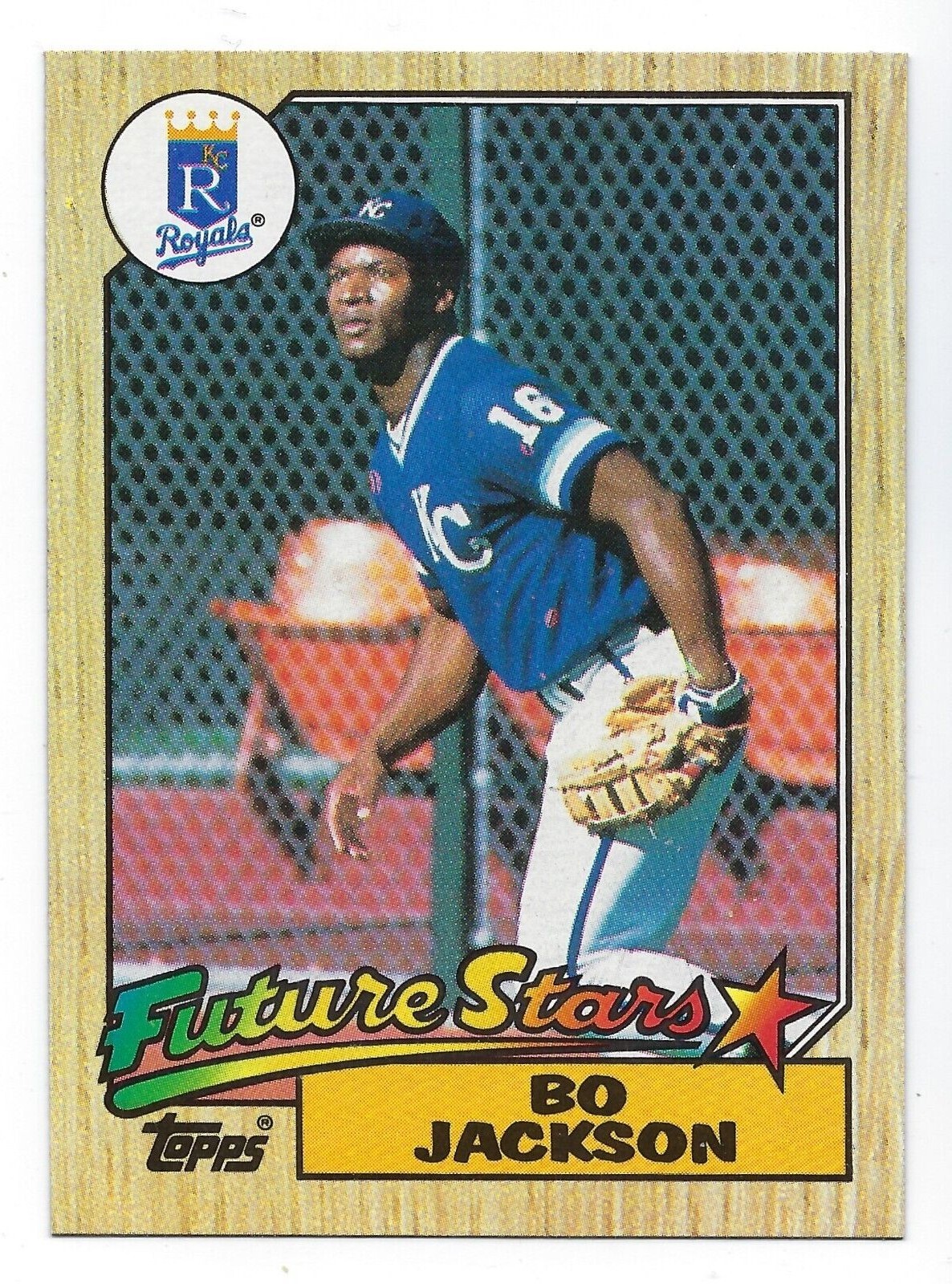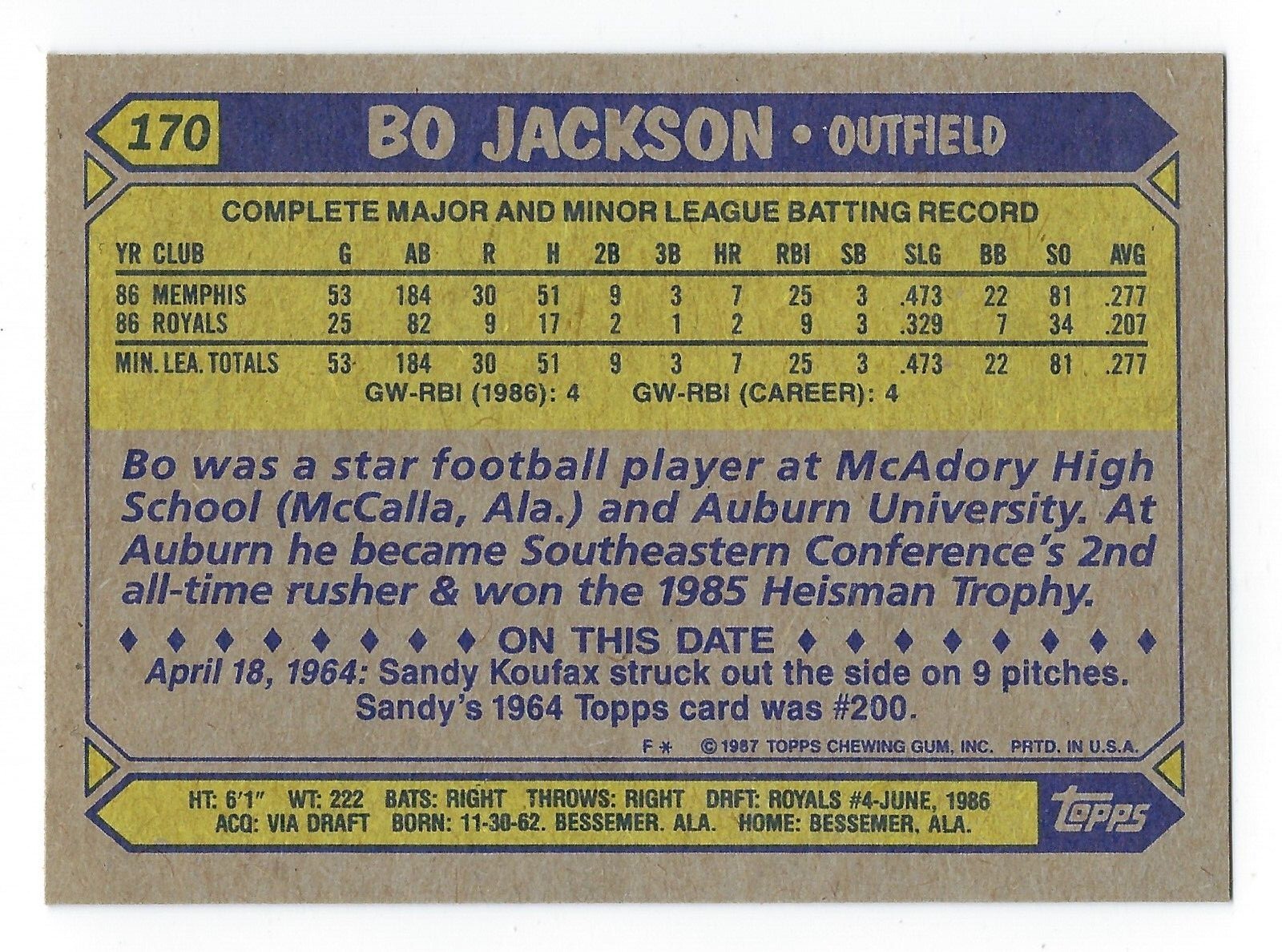 1. 1987 Topps Bo Jackson Rookie Card Future Stars #170
Our top pick for the best Bo Jackson rookie card is not the most expensive baseball card on the list or the hardest to find.
However, there is something special about the 1987 Topps Future Stars Bo Jackson rookie card.
This Bo Jackson baseball card was the first card many collectors had of Bo Jackson, and it was the first chance they had at getting their hands on No Jackson trading cards.
Its collectability is much more about the nostalgia of the 1987 Topps set and the fact that this was their first year of collecting for many.
The classic wood grain of the 1987 set is hard not to love, and the overlay of the Future Stars title looks great.
But even better, you can usually snag this card on eBay for just a few bucks, because this Bo Jackson card value is still pretty cheap.
2. 1986 Topps Traded Bo Jackson Rookie Card #50T
Like other years, Topps puts out a small set of baseball cards in-between seasons to show which players changed teams or were brought up to the majors.
The 1986 Topps Traded Bo Jackson rookie card is one of our favorite Bo Jackson rookie cards.
The classic 1986 black border top with the blue Royals name perfectly matches the blue on his uniform and the light blue background.
When it comes to colors, this is a beautiful baseball card.
This is also one of the few Bo Jackson rookie cards which is not an action shot, being a standard portrait of the rookie sensation.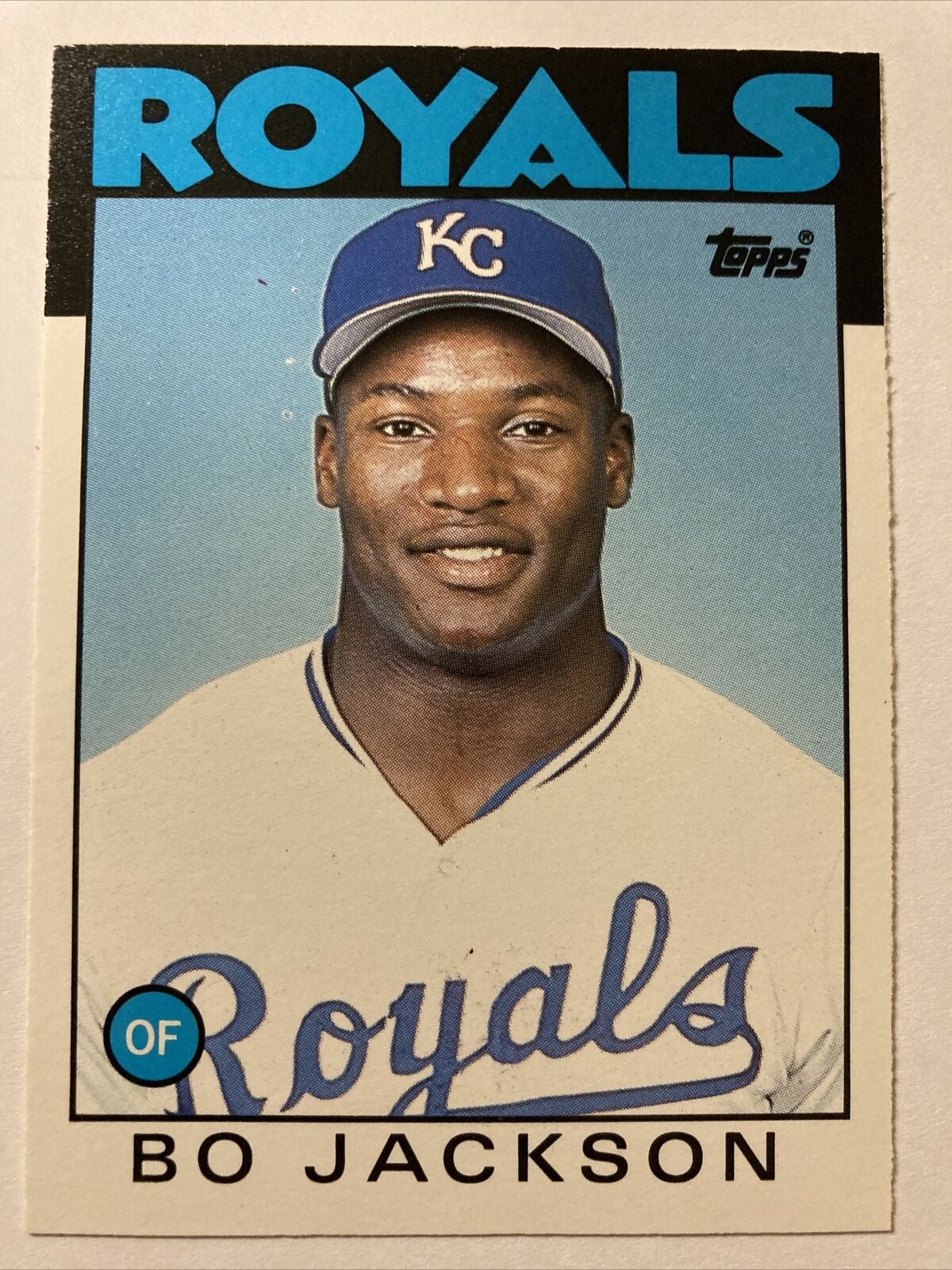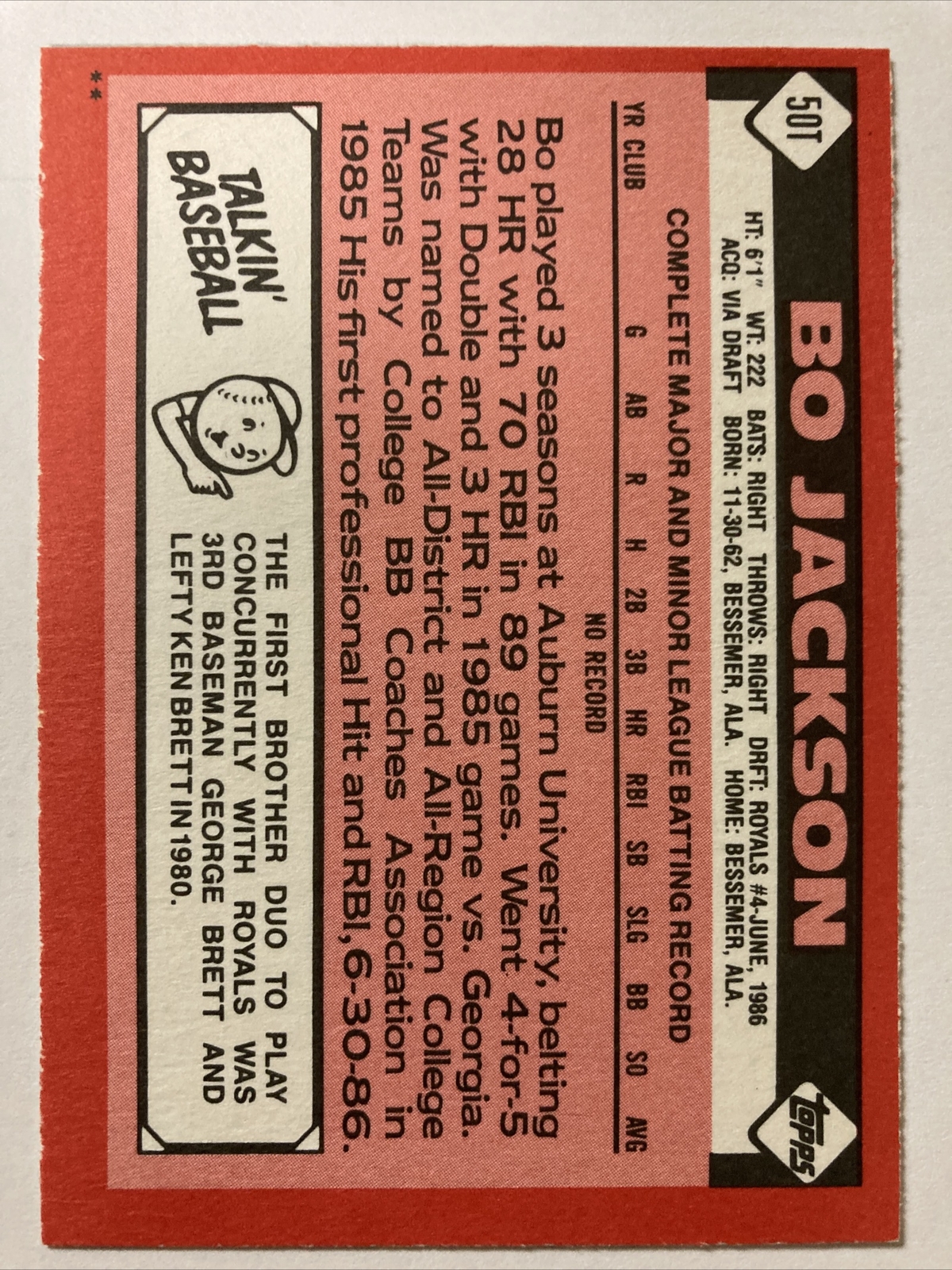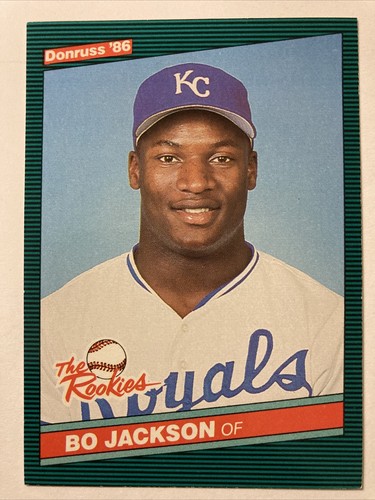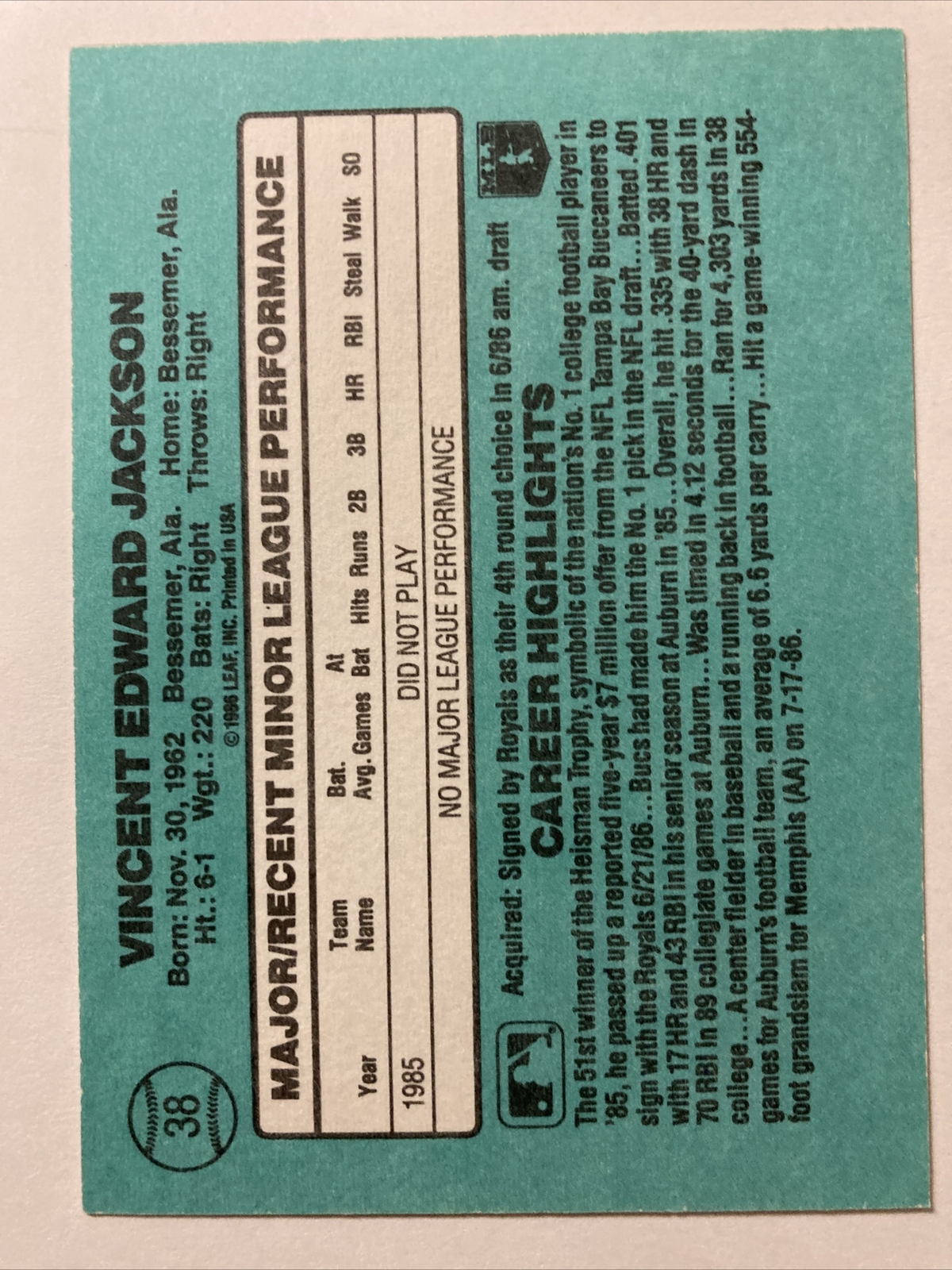 3. 1986 Donruss The Rookies Bo Jackson Rookie Card #38
I don't know what happened in 1986, but Bo Jackson only did portrait-style pictures for his rookie cards.
The Donruss series "The Rookies" was a similar release to the Topps traded, except it only featured players who were just called up or on the verge of making their major league debut.
While most of the players from these sets are forgettable, the Bo Jackson rookie card provides a bright spot in the series.
4. 1987 Donruss Rated Rookie Bo Jackson Rookie Card #35
There was something tough about the 1987 Donruss baseball card set.
The back border with hints of gray and yellow wasn't the most beautiful cards, but they had grit.
But similar to what we have seen on other Bo Jackson rookie cards, this card pops because of the classic blue Royals jersey and how it compliments the different card colors.
The 1987 cards were also some of our first opportunities to see action shots of Bo Jackson on his rookie cards.
The Donruss, while still very affordable, were not as easily found in 1987, which made them even more special for collectors who wanted to get their hands on a Bo Jackson rookie.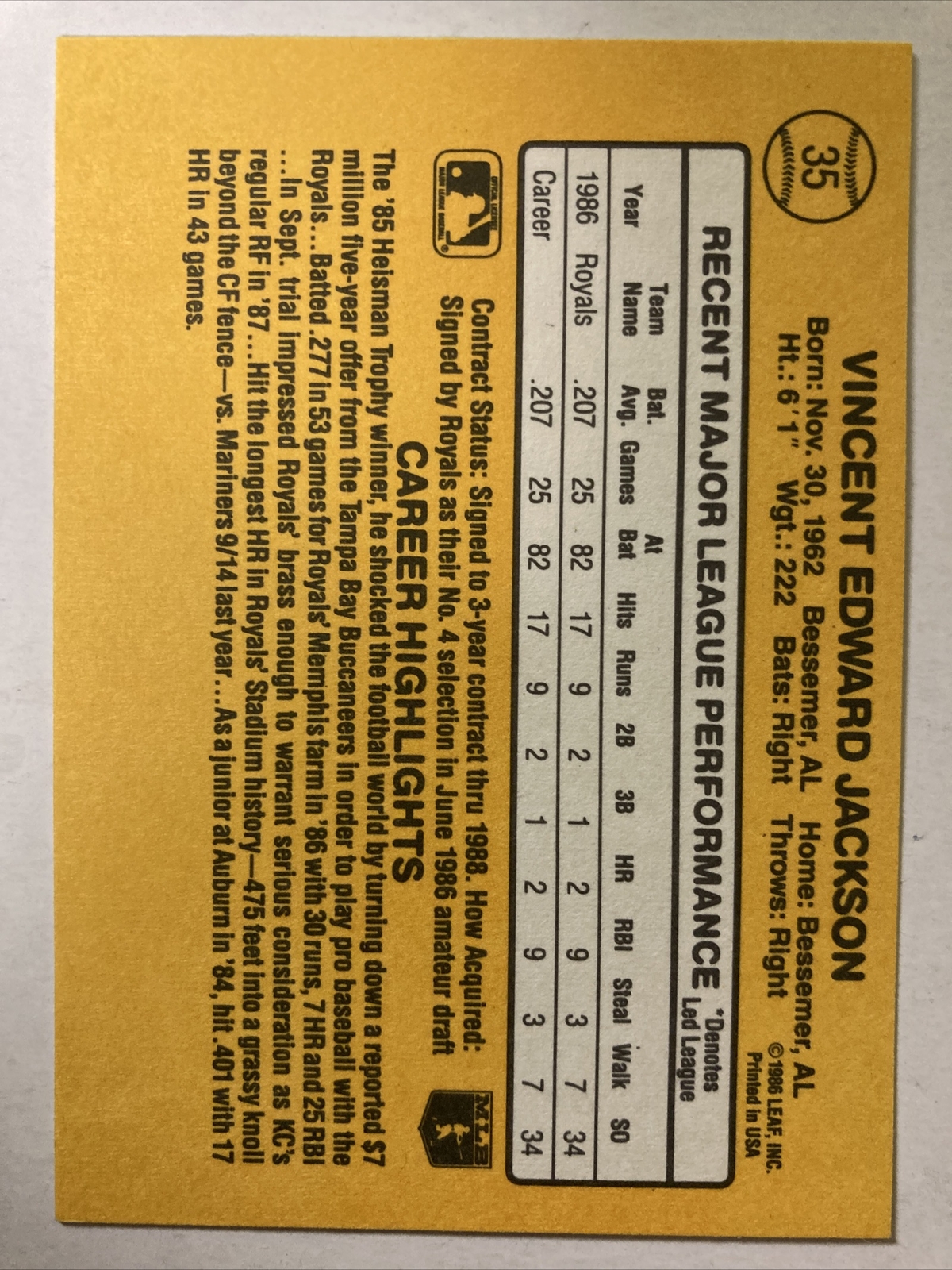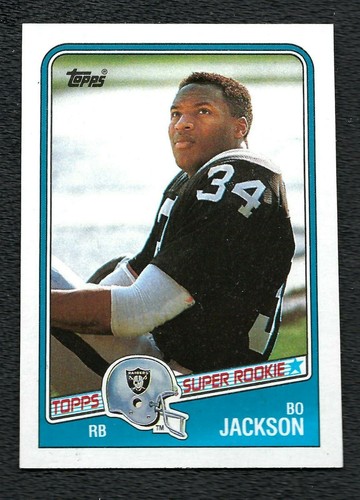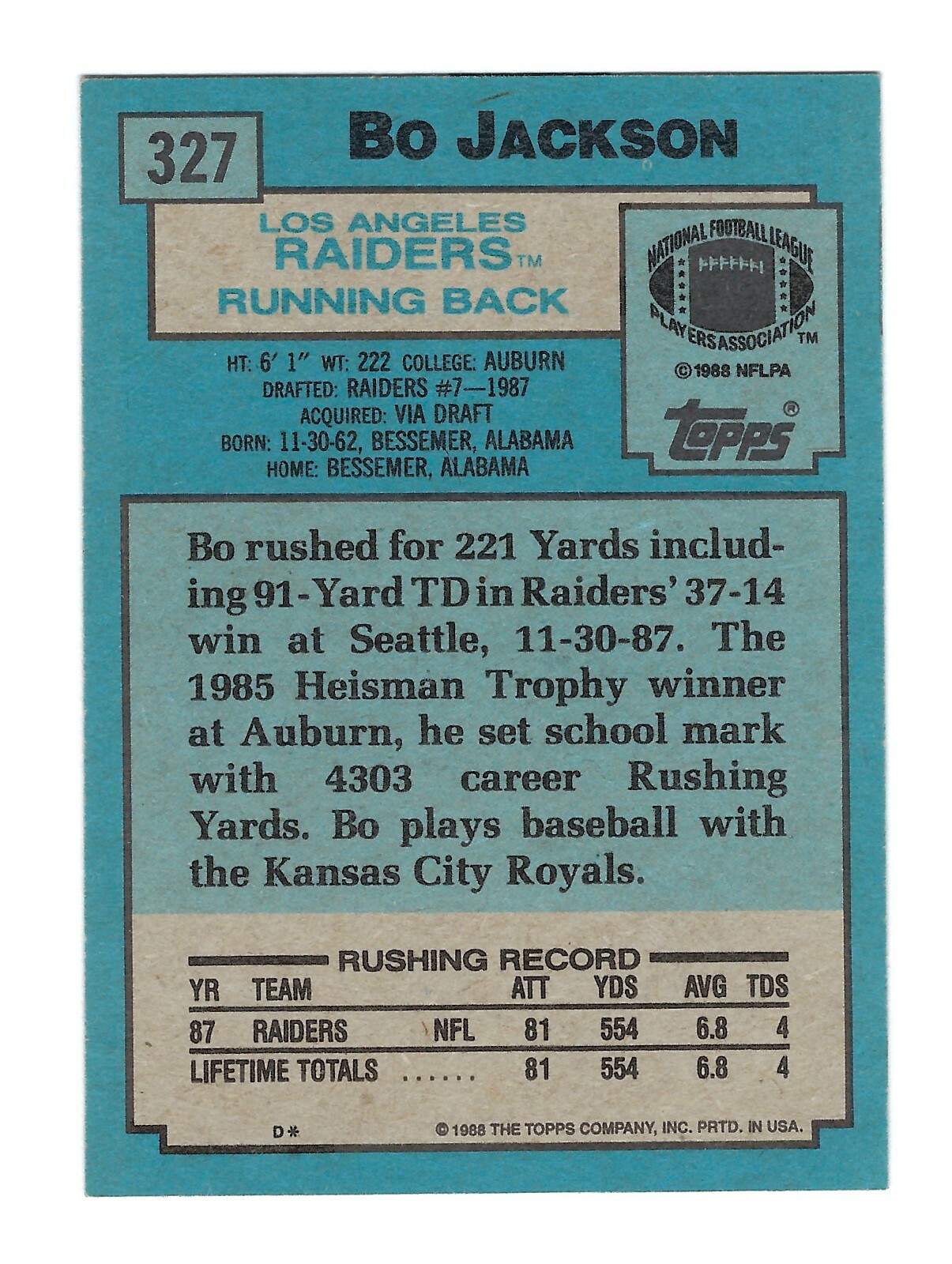 5. 1988 Topps Football Bo Jackson Rookie Card #327
Even though we all knew Bo Jackson played baseball and football, his official Bo Jackson football card didn't come out until 1988, a year after the Bo Jackson baseball cards.
It's not the most exciting card, but Bo Jackson in a classic Raiders jersey is quite a sight.
This Bo Jackson card is highly collectible and can demand a pretty penny.
Mainly because many of these Bo Jackson cards have been graded, and even numerous autograph options are on the market, making this a very sought-after card.
Who Is Bo Jackson?
Bo Jackson is a former professional baseball and football player.
He is best known for his time with the Kansas City Royals and the Los Angeles Raiders.
Jackson was born in Bessemer, Alabama, and excelled in baseball and football from an early age.
He was drafted by the New York Yankees in the 1986 MLB draft but chose to play football instead. Jackson was drafted by the Tampa Bay Buccaneers in the 1987 NFL draft but was released before the season began.
He joined the Raiders later that year and helped lead the team to a Super Bowl victory in 1990.
After retiring from football in 1991, Jackson returned to baseball and played for the Royals until his retirement in 1994.
Throughout his career, Jackson was considered one of the most talented athletes of his generation. He was inducted into the Baseball Hall of Fame and the Pro Football Hall of Fame in 2006.
Bo Jackson's Baseball Background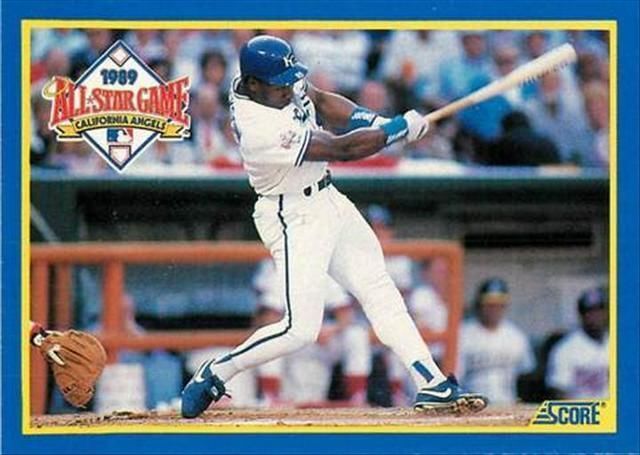 Jackson began his professional baseball career in 1982 with the Birmingham Barons, a minor league affiliate of the Chicago White Sox.
He played well for the Barons, batting .277 with 9 home runs and 50 RBIs in 109 games. His strong performance earned him a promotion to the major leagues in August of that year.
Jackson made his major league debut on August 2, against the New York Yankees. He went 0-for-3 at the plate but made an impact on defense, robbing Yankees first baseman Don Mattingly of a hit.
Jackson would play parts of four seasons with the White Sox before being traded to the Kansas City Royals in 1986.
He would spend six seasons with the Royals, including one All-Star appearance in 1989.
In 1992, Jackson announced his baseball retirement to focus on his football career. However, he would briefly return to baseball in 1994, appearing in 8 games for the California Angels.
Jackson finished his baseball career with a .250 batting average, 141 home runs, and 415 RBIs in 827 games.
He was named the Texas League Player of the Year and a Baseball America Minor League All-Star.
Bo Jackson's Baseball Accomplishments
He was the first athlete to be named an All-Star in two major sports and won the Heisman Trophy in 1985.
Jackson hit 141 home runs and stole 193 bases as a baseball player.
He was also named American League Rookie of the Year in 1986.
In 1989, he was named MVP of the All-Star Game after hitting a home run and stealing a base.
Jackson's career was cut short by injury, but he is still considered one of the greatest athletes.
Bo Jackson Becomes A Two-Sport Superstar
Bo Jackson was a stand-out football player from an early age.
In high school, he was recruited by multiple colleges and eventually chose to play for Auburn University.
Jackson quickly proved his talent on the field, setting multiple records and becoming a two-time Heisman Trophy winner.
After college, he was drafted by the Los Angeles Raiders and played for four seasons before retiring from the NFL.
However, he made a brief comeback in 1995 with the Kansas City Royals before retiring from professional football.
Throughout his career, Jackson demonstrated exceptional speed, strength, and agility, cementing his place as one of the greatest football players of all time.
---
Have Questions? We Have Answers.
---
If you enjoyed this article, you might also like
Rob is a Certified Personal Trainer and Nutrition Coach through the National Academy of Sports Medicine. For the past 10 years, Rob has been navigating the health and fitness landscape to better himself and those around him, focusing on tools such as calorie and macro counting, intermittent fasting, and HIIT training techniques.